Watch Father John Misty Cover Arcade Fire's "The Suburbs"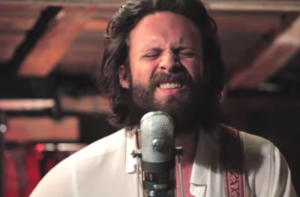 Though enigmatic songwriter Father John Misty has been known to include covers of Leonard Cohen, Johnny Cash, Cat Stevens and others into his live sets, a recent video of the singer performing Arcade Fire's "The Suburbs" may be his first contemporary cover.
Performed acoustic during a session for CBC Music, the video captures a solo performance of the Arcade Fire track that rivals any of his past covers.
Jumping to a flawless falsetto throughout, Tillman nails the vocal line, even adding a whistling section at its finish. The lyrics fit his wry, witty, and socially conscious writing style perfectly, making the song a surprisingly appropriate choice.
Watch the video below, and read our review of his last performance at The Vic here.