What A Weekend! Chicago Music Preview March 5-9
Fact: there is outstanding music every weekend in Chicago.
But sometimes you just have to shake your head, sigh, and realize how lucky we are to have this city as our playground.
What's more, the highlights of this weekend's cavalcade of stars feature that are right smack in our wheelhouse…. the jambands, supergroups, heavy funk, progressive bluegrass and psych-infused folk and rock that we hold dear at The Barn.
Here's your guide to the most action packed weekend of music in recent memory.  Want to play?  Click here and enter a contest to win tickets to many of these (or simply scroll down to the entry form a the bottom of this page).  We've got a bunch to give away.
Thursday
We've been following the rise of White Denim for a while now, and we may be approaching peak Denim.  The long anticipated headlining gig at The Metro could be the perfect combination of band / venue / timing of any show in recent memory.  Remarkably, tickets are still available at press time but may not last, so get on 'em.
I know many of our readers are Phish fans, and suspect many enjoy good a beer as well.  City Winery puts a twist on their typical music-and-wine pairing series with Helping Phriendly Orchestra, the world's greatest Phish cover band, who will play a set paired with beers from Ale Syndicate starting at 8.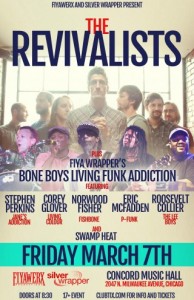 Friday
Phil Lesh and Bob Weir have somehow avoided Chicago since the summer of 2012, and Deadheads have taken notice, as Ratdog sold out the Chicago Theater without much trouble.  I'm sure the addition of Steve Kimock to the lineup didn't hurt those sales.
For Ratdoggers looking for something do post show, Yonder Mountain String Band's Jeff Austin plays a pair of shows Friday at City Winery with his solo band and the late show is offered as a general admission late night dance party.  If you're not in for the 'dog, the early show will be more of a seated / listening affair, so there's a big of both sides of Jeff to see here.
Sliverwrapper and Fiyawerx have become the chocolate and peanut butter of NOLA flavored Chicagoland funk.  They pair up to present the Crescent City's Revivalists as the stars of Friday's gig at Concord Music Hall, but supergroup Bone Boys Living Funk Addiction --  Stephen Perkins (Jane's Addiciton), Corey Glover (Living Colour), Norwood Fisher (Fishbone), Eric McFadden (P-FUNK), and Roosevelt Collier (Lee Boys) -- and locals Swamp Heat round out a bill where I'm sure there won't be much sitting down.
The buzziest of buzz bands, Lake Street Drive, play a stop that White Denim in on their way up:  the always lively Lincoln Hall.  Should be a fine showcase of Racheal Price's outstanding pipes.
I've recently been turned on to Will Phalen, a Chicagoan who dips his toe in the psych-folk waters that have been getting a ton of traction around here lately.  He celebrates the release of his latest LP The Dirt and The Air and The Grass at The Hideout.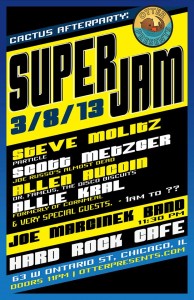 Saturday
Still paying attention Phish fans?  Then I'm sure you know that bassist Mike Gordon's Park West show is a sellout… and it's a hard sellout, with only a handful of tickets available on secondary resellers, for 5 and 6 times face value.  Ouch.  With raves for the first few shows of the tour, this should be a worthy successor to Mike's last few Chicago appearances.
Jam fans that find themselves shut out, or just want to keep the party going after should find their way to Hard Rock Cafe.  Otter Presents are going for another one of their one-of-a-kind super jams.  The night kicks off with our friend, guitarist Joe Marcinek, who assembles some kick-ass bands to play both his jazzy original material and sweet covers.  Two of his pals this time around, Particle keyboardist Steve Molitz and fiddler Allie Kral also join the OdderJam post 1 a.m. with Scotty Metzger and Allen Acouin with other special guest promised.  This one could get rowdy.
On a quieter note, Mike's old pal Del McCoury holds court at City Winery for an early and a late show.  Del's boys were in town at the same venue a few months ago, and we know they can get a crowd going.
Wednesday & Sunday
If Thursday through Sunday don't do it for you, there's still more....  Wednesday holds a few regular gigs: Tributosauras preps their annual St. Patty's Van Morrison tribute at their monthly Martyrs show, while Genome funks out Tonic Room as a part of their residency and Terrapin Flyer raises the Dead at the Abbey.
Jazz fans still standing on Sunday should check out the lineup at Martyrs on Sunday night, featuring Jazz Underground veterans Frank Catalano, Goran Ivanovic and Matt Ulery.
[Form id="9"]