Analog Son | Funk Music Denver-Style
Words / Photos: Kelley Lauginiger - @peapodmcgee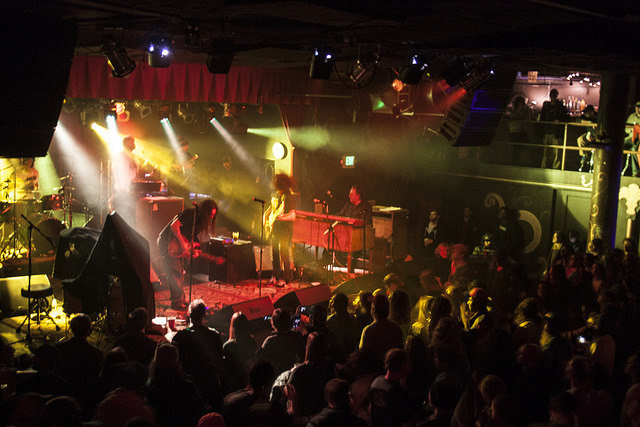 I just want to share the good news about this amazing band: Analog Son. They're super funky, super cohesive, and have a fly-as-possible fashion sense to boot. Fronted by the soulful, powerful, feminine voice of Devon Parkern juxtaposed against a six-piece drums, bass, and brass combo, they produce an urgent, genuine sound.
It's music that's really kept me intrigued since March when they released their new album, Stomp and Shout, and hosted guests Nigel Hall and Jason Hann at a gig in Denver. I couldn't quite make it out to Denver at that time for the show, but I did listen to it. More than once. After a few plays through, then finding out they currently only play in Denver…well, I promptly booked a flight.
May 9th came, and I was there, super amped. Cervantes Masterpiece Ballroom, in the Denver Five Points neighborhood, played host. Flanked by local openers, Adam Robinson and the Funky Monks, and UK-gone-global headliners The New Mastersounds, you'd never know it was a full-on May blizzard outside for tons of reasons. Two in particular.
For one, Denver is like Chicago in being as hardcore as possible when denying the difficulties of winter.
For two, Denver can equal the Chicago level of "we only came to party and kick ass. And everyone's totally doing both." I got there when Adam Robinson and The Funky Monks took the stage, and probably slammed about five Modelo's before having to wait for anything at the bar.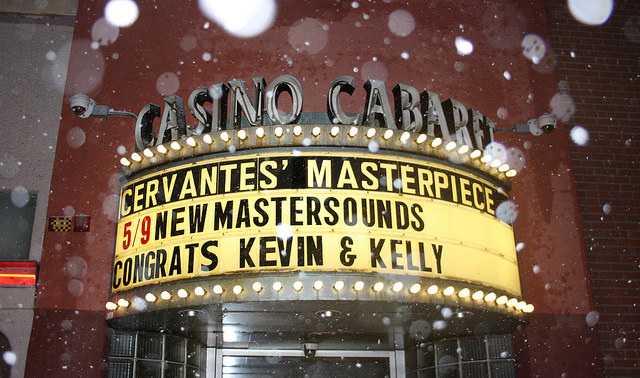 There was a pretty solid crowd throughout the night, but the place really started filling in quickly between the Analog Son set and when New Mastersounds started up. Everyone was raging and ripping shots like it wasn't totally coming down outside. I should also mention for historical reasons that Gramatik was at Red Rocks this same night, and lots of people got stuck without rides up there after the show. Keep in mind: May 9.
But inside Cervantes was a booty-shakin' funk down, a soulful summertime Frankie & Annette beach party. As always, the New Mastersounds put on a phenomenal show that evening, but man, Analog Son just stole the show.
They work so well together, rejuvenating jam-funk's characteristic cyclical repetition. Each song has a different sound; its own unique quality, Between Parker's glorious pipes blanketing over the guys, and the way this band gets amped up as they play along, building up the tension in each segment.  It's not uncommon to see them standing up and dancing along to their own rhythms; it's as if they have finally found each other. It's like gospel meets da fonky bass slap, over some long-form jamming from well-trained musicians. It's also so soulful, you know? So not phony. So, so real.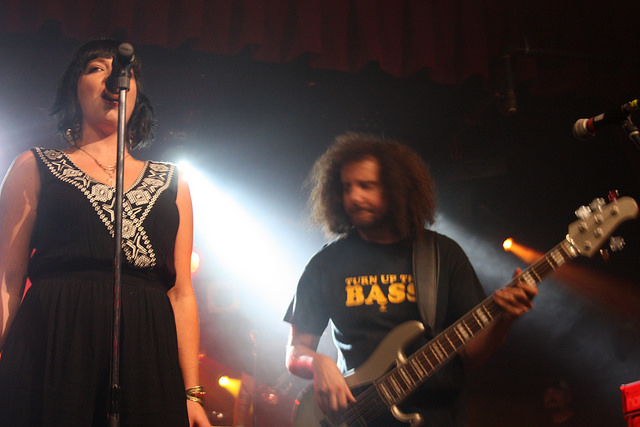 The synchronicity and intuition they deliver is no surprise, as the two frontmen, guitarist Jordan Linit and bassist Josh Fairman, have been playing together since they were twelve years old. They came to Denver to study music in their teens, and haven't looked back. Touring for the last ten years with jam band Kinetix, Josh and Jordan decided it was time to turn from rock/jam fusion, right into the face of funk when they were on a bit of a break from the road.
"When the touring for Kinetix slowed down," Josh told me, "it created more time for other music. Joe Tatton (New Mastersounds keys) was coming to town, so Jordan and I thought it would be cool to record some new, funky stuff. We have always loved the funk, but never had a project where that was the main focus. We wrote some tunes, and had an awesome session with Joe, so I guess… you could say the album (self-titled Analog Son, 2014) and our music, really started before the band itself."
Analog Son have really built a family around their abilities throughout the Denver area. When asked if Nigel Hall or Jason Hahn will join them on stage again, Josh said that "they for sure will be playing again." He added, "We also hope to incorporate other people who were on the albums, like Ivan Neville (Dumpstaphunk), Joe Tatton (New Mastersounds), the Shady Horns (Lettuce), and the guys from Motet."
As they closed out this May 9 show, they brought out members of Adam Robinson's Funky Monks, as well as some other local favorites to help them finish out the set like one big happy family… it seems that this is just how they roll. The more the merrier, but you gotta have skills.
I think it's just a matter of time before they hit the road with this new project, finding successful combinations in every city they pass through.  To describe how it feels to see their show, I'll let Josh tell you himself:
"We want people to have fun, and dance mostly. We want to be uplifting and help people forget their day-to-day, while giving them a permanent stink-face and making sure it's funky enough to keep their upper-lip snarled too. Good funk should mess up your face even if you're having a good time." Um, hell yes? More of this in life please.
Josh lives and dies by this ideal, as his constantly-contorting, passionate facial expressions could even be considered an eighth member of the band. Without further ado, here are some details Josh was able to provide about where they've been, where they are, and where they're going. Thanks Josh and Analog Son for a fabulous show, and a fabulous new album
Analog Son is: Jordan Linit (guitar), Josh Fairman (bass), George Horn (drums), Eric Gunnison (keys), Devon Parker (vocals), Mike Chisea (saxophone), and Jimmy Chisea (trumpet).  Check out our Q&A with the band below.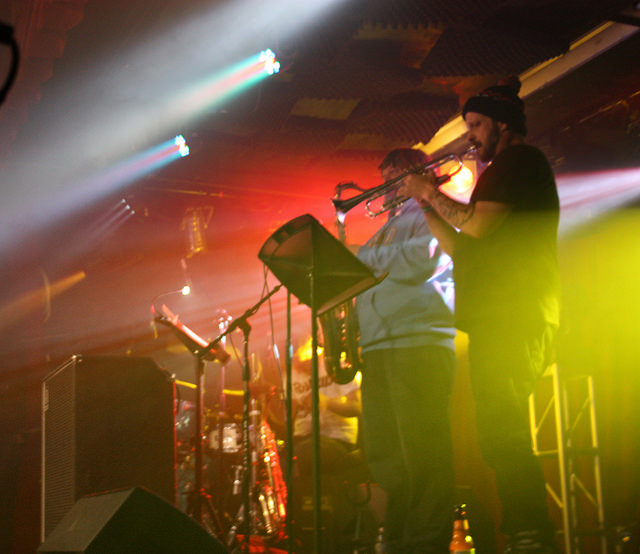 Q: How has Denver shaped who you are as a band?
A: Denver has been really great for us. So many people came through here regularly that we have had great opportunities to collaborate with people. We also have so many great venues! Cervantes has been really great at finding us gigs with bands we love, like the New Mastersounds, Maceo Parker, the Funky Meters, etc.
Q: Will you be touring outside Colorado in the future?
A: Oh yea, we want to hit the road starting this fall.
Q: You mentioned loving to play with New Mastersounds, and Cervantes being very supportive of your music. Your first show was actually at Cervantes, too, opening for New Mastersounds, right?
A: Yea, actually it was! I didn't even realize that. So, yea, I guess you could say we've come a long way. We're much tighter now. When we started we had an idea of what this band could be, but now, we know what we have and are more rehearsed. This means our confidence is high, and it leads to just good shows."
Q: Has New Mastersounds been a big influence on your music overall? I noticed quite a bit of the New Mastersounds' flavor in Analog Island especially.
A: That is probably from Joe Tatton's playing. He really took that track over, and his solo on that song was the original one he did on that take… so ya, I guess it really does have his sound all over it. Honestly, Analog Island really means a lot to me because it was one of the first tunes we ever recorded. It reminds me where we started, and how far we've come.
Q: Who else would you love to collaborate with? Or perform with on the same bill?
A: We would LOVE to get on the bill with the Lettuce cats. They are just on fire.
Q: They absolutely are on fire. How did you link up with the Shady Horns (from Lettuce)?
A: Jordan was friends with them, and had them come lace some tracks. I guess before we knew it, we made some serious music! Between that and Joe (Tatton), we decided it was good to start off as a serious studio project, and I guess, Analog Son was born. This was last year.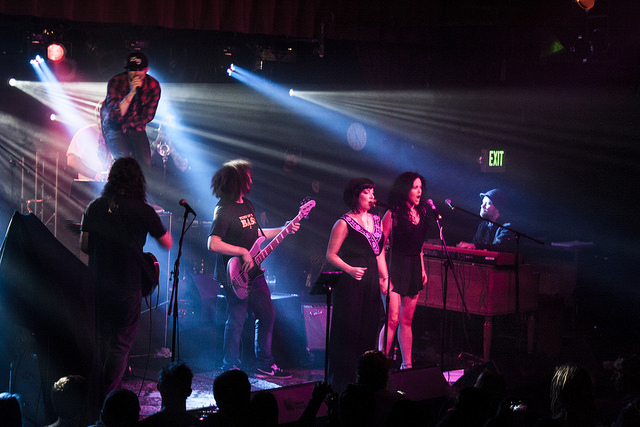 Q: And as far as recording the album overall, can you talk about Scanhope Sound? And its overall influence on creating Analog Son?
A: Sure. Scanhope is a studio I started with my friend Joel Scanlon. Basically we set out to build the best studio in Colorado. To do this, we combined new recording technology with the analog equipment that so many of our favorite recording were made on. It's allowed us to collaborate with just…so many different people, because we have the space. The two most influential people I've worked with are probably the New Mastersounds and Terrence Houston, who now plays with the Funky Meters.
When the New Mastersounds recorded there, it was sweet to have guys I've looked up to for so long have the faith in me to do their album. They rock. It was really inspiring to see them bouncing ideas off each other, and really go with the flow. Terrence is inspiring in a different way. He is ALWAYS on. Every time we record he hits the take in one or two times. One session we recorded all day, he left for a gig, came back and recorded more, then went and played another three-hour gig. He sounded amazing the whole time! He is just one with the music, and I strive to be like that as much as possible.
Q: That's really awesome. And as far as your band, and your songs, who writes the music?
A: Jordan and I write most of the music. We often have the people collaborating get in on it as well, which is really fun. Devon Parker writes a lot of the lyrics, but Jordan and I share that as well. Jordan penned the title track, Stomp and Shout.
We also love getting input from the other collaborators. Like for instance, Jordan writes a lot of the horn parts, but when the Shady Horns come in, they always tweak something or write a new part that takes it over the top. We start with a blueprint, but it's constantly changing.
Q: What's your favorite song to perform live right now?
A: "Shady Nights" for sure. It has really…just all the flavors of funk that I love. You know, Herbie (Hancock), Tower of Power, early Red Hot Chili Peppers.
Q: So before you hit the road in the fall for a tour, do you have anything you want to announce?
A: Well, we have a big show coming up July 31 at the Fox Theater in Boulder with Maceo Parker (jazz legend), and then we play at Arise Music Festival in August. Please check out Stomp and Shout, and look for the vinyl release in the fall as well.