FESTIVAL WATCH | Shoe Fest 2017
Festival Watch is a Tomorrow's Verse feature where we break down festival news into the facts you need to know.
Shoe Fest - September 1-3 - Camp Shaw Waw Nas See, Manteno, IL
Headliners To Watch: Leftover Salmon!  Drew and Vince have both been at previous Shoe Fests, but the whole band is bringing the FESTIVAL to the Festival this year.
Old Shoe (of course).  The festival's host and namesake band will perform two nights again.
The Undercard:  TV favorite Edward David Anderson is a perfect fit for the Americana based gathering.  Looks like some Dead on the bill, too with St. Louis' The Schwag.
Local Flavor: Chicago's Growler (bluegrass) and festival mainstay Jaik Willis will both take I57 down to the 
You Need To Know: There's much more to be announced, so stay tuned.  Typically a great collection of local, regional and national talent covering Americana, bluegrass and jam in a bucolic setting.
Bottom line: Salmon couldn't be a more perfect fit for the vibe that this Labor Day festival has been to curating.  If you've done the mega-camping fests, it may be time to check out this smaller, more intimtate gathering.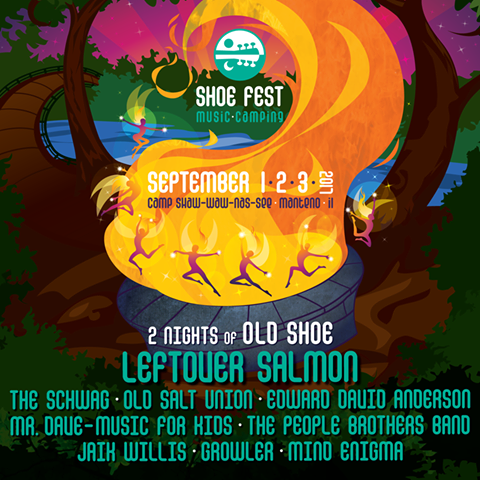 Watch: Leftover Salmon at an Ilinois festival that didn't quite have the staying power of Shoe Fest (via skriddler)