Late Night Roundup | St. Vincent, Steve Martin, The Shins & More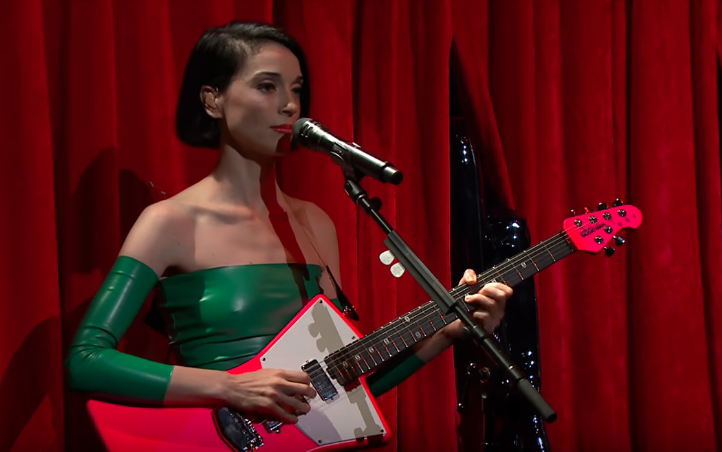 St. Vincent on The Late Show With Stephen Colbert
St. Vincent is set to release her highly anticipated new record Masseduction on Friday, and stopped by Colbert's show this week to perform "New York" and "Los Angeles." The first is performed dramatically with only a piano backing, while the latter is fleshed out with a full electronic backing, guitar and strange, dancing legs as a backdrop. It's wonderfully weird and beautiful music.
Steve Martin & The Steep Canyon Rangers on The Late Show with Stephen Colbert
Steve Martin brought his catchy new single, "Caroline," with a massive musical backing. Joined by the usual Steep Canyon Rangers and an additional string section, the song features infectious vocal melodies, string breakdowns and an overall feel-good spirit, making it everything we could ever ask from Martin.
The Shins on The Late Late Show with James Corden
Indie-rock staple The Shins made a late night appearance on James Corden's show, performing the pop-forward single "Cherry Heart." It's a dance track that features an electronic backing and James Mercer solely on vocals.
Depeche Mode on Jimmy Kimmel Live
Depeche Mode have been hitting new heights nearly 30 years into their career with their new record, Spirit, and brought the dramatic "Cover Me" to late-night TV. An emotional vocal performance and dense, chugging instrumental backing recall their older work with a more modern spin.
Jon Batiste with Trombone Shorty on The Late Show With Stephen Colbert
Jon Batiste & The Stay Human Band called Trombone Shorty to Colbert's stage to perform a cover of Allen Toussaint's "On Your Way Down." The song, which has been notably covered by Little Feat and Phish, is given a predictably fun and funky treatment by the band.
Tyler, The Creator with The Roots on The Tonight Show Starring Jimmy Fallon
Hip-hop mastermind Tyler, The Creator recently released his excellent new album, Flowerboy, a highlight of his career, and brought the ballad "See You Again" to The Tonight Show. With help from The Roots and a string section as well as singer Kali Uchis, Tyler puts on a serious show, fleshing the song out with a jazzy, dreamy vibe.