Late Night Roundup | Spoon, U2, Talib Kweli & More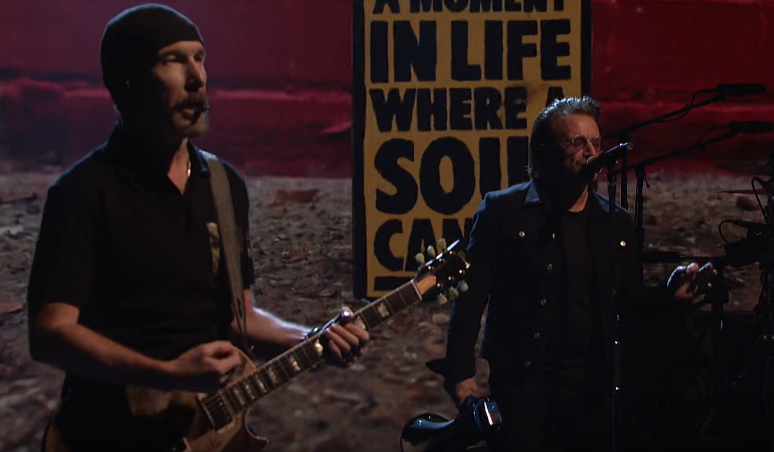 Watch some of Tomorrow's Verse's favorite artists hit the promotional late-night television circuit.
1. U2 on Saturday Night Live
To promote the recently released record Songs Of Experience, U2 performed on Saturday Night Live, choosing "American Soul" and "Get Out Of Your Own Way," the two tracks from the album that featured Kendrick Lamar. Though Kendrick wasn't there, the band brought powerful performances, fleshing out the tunes in a grandiose manner that one would expect from the group, including trippy visuals.
2. Spoon on The Tonight Show Starring Jimmy Fallon
Spoon have been popping up everywhere in promotion of their excellent record Hot Thoughts, with their most recent appearance on Jimmy Fallon's show. The band played "Do I Have To Talk You Into It" in a pure rock 'n roll fashion, carefully planned but undeniably cool, Britt Daniel strutting onto the stage after the rest of the band gets the music started. It's everything a late night performance should be, so props to the band here.
3. Talib Kweli and Anderson .Paak on Conan
Infamous rapper and lyricist Talib Kweli recently released the star-studded Radio Silence, and brought a couple of the record's guests with him for a performance on Conan. The artist was joined by multi-instrumentalist Anderson .Paak on drums in addition to producer and songwriter Kaytranada for a rousing performance of "Traveling Light."
4. Portugal. The Man on The Late Late Show with James Corden
Portugal. The Man have been blowing up since the release of their most recent record, Woodstock, promoting it heavily anywhere possible. They brought an infectious and energetic performance of "Feel It Still" to Corden's show, demonstrating exactly how they made it to this point.
Liam Gallagher on The Tonight Show Starring Jimmy Fallon
Oasis songwriter Liam Gallagher returned to the spotlight with As You Were, his excellent, recently released solo record. The singer stopped by Fallon's show for a faithful but hard-rocking rendition of "Come Back To Me."