Late Night Roundup | War On Drugs, Tune-Yards, Elvis Costello & More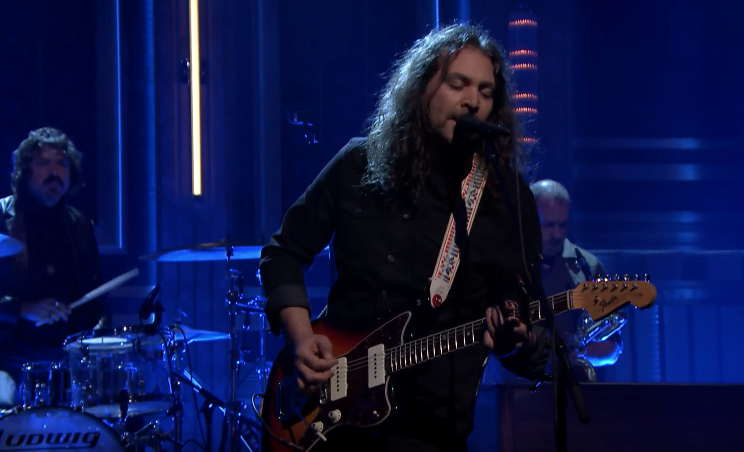 1. The War On Drugs on The Tonight Show Starring Jimmy Fallon
The War On Drugs have really picked up steam after the release of their excellent new album, A Deeper Understanding, even landing a recent Grammy nomination for best rock album. The band stopped by Fallon's show to perform their lead single, "Pain," with a dense, trippy and calculated take on the psychedelic track.
2. Tune-Yards on Jimmy Kimmel Live!
Quirky, off-kilter indie songwriter Merrill Garbus returns with a new record as Tune-Yards, and performed two songs from it for Jimmy Kimmel. Musically, the songs stick to layers of melodic electronics and vocal loops, while the performances themselves involve a group of choreographed dancers. It's a sight to see, and the songs sound great.
3. Elvis Costello on Jimmy Kimmel Live!
In an unexpected late-night appearance, Elvis Costello stopped by Kimmel's show to perform a gorgeous, stripped down version of his 1977 classic "Alison." Joined simply by two backup singers, the sparse arrangement draws attention to the lyrics, and Costello sounds nothing short of amazing.
4. Sylvan Esso on Jimmy Kimmel Live!
Electronic duo Sylvan Esso recently released a new single, "PARAD(w/m)E," an infectious, glitchy track full of hand claps and looped melodies. The group performed on Kimmel with two backup singers, adding layers of harmonies to the fairly simplistic track.
5. Mavis Staples on Jimmy Kimmel Live!
Mavis Staples continues to promote her great new album, If All I Was Was Black, and brought the funky "Build A Bridge" to Jimmy Kimmel Live! The politically-charged anthem is backed by a tight band including backup singers, while Mavis remains charismatic as ever.
6. Jack Black on The Late Show with Stephen Colbert
Jack Black's latest role is playing a Polish polka star in the Netflix film The Polka King, and the actor and musician stopped by Colbert's show to perform "Everybody Polka," an insanely cheesy, horn-laden polka song that's nothing if not entertaining.