Analyzing Radiohead's Upcoming OKNOTOK Boxset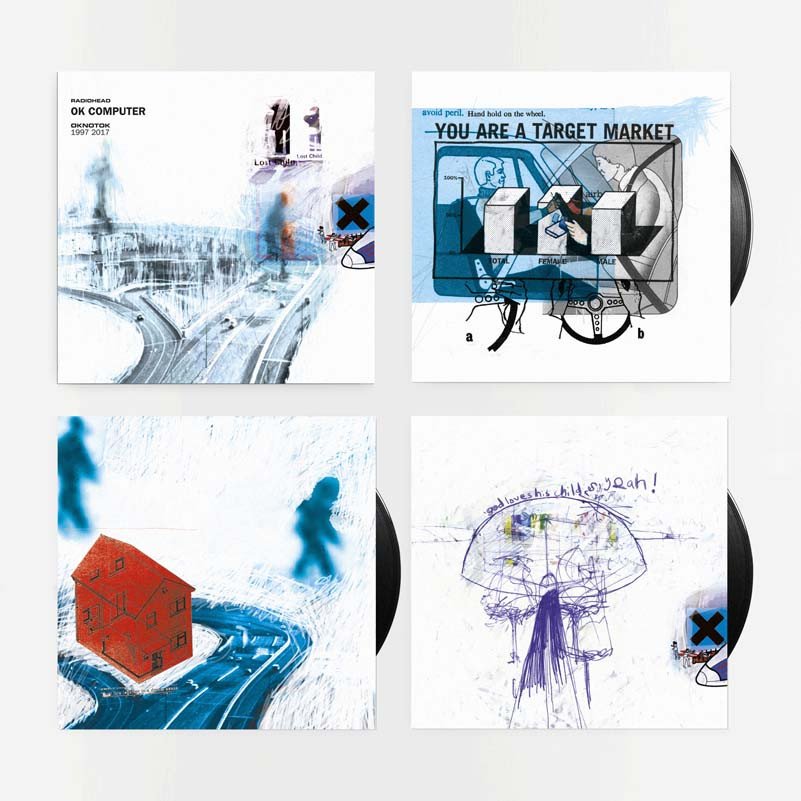 Radiohead recently announced a reissue of their seminal 1997 record OK Computer, which will include the original album along with three unreleased tracks and eight B-sides from the record, almost all of which were featured on the Airbag / How Am I Driving? EP already.
Though the boxset will come with additional, never-before-seen memorabilia like a copy of Thom Yorke's notebook from the era, a 30-page art book and a C90 cassette mix tape compiled from the sessions and demos, the real news here is the three unreleased songs.
Most Radiohead fans have been waiting to hear of a release for these titles for a long, long time.
"Lift" – Few unreleased songs hold the power and mystery of "Lift," a song that was first debuted in 1996 on the tour for The Bends, dropped from OK Computer plans and later revisited in an entirely different form for the Kid A and Amnesiac recording sessions.
In a recent interview with BBC 6 Music, guitarist Ed O'Brien discussed the song, saying:
"We played that live with Alanis Morissette. It was a really interesting song. The audience, suddenly you'd see them get up and start grooving. It had this infectiousness. It was a big anthemic song. If that song had been on that album, it would've taken us to a different place, and probably we'd have sold a lot more records – if we'd done it right. And everyone was saying this. And I think we subconsciously killed it. If OK Computer had been like a Jagged Little Pill, it would've killed us. But "Lift" had this magic about it. But when we got to the studio and did it, it felt like having a gun to your head. There was so much pressure. But saying that, I've got a monitor mix, and it is pretty good."
Needless to say, this will be an exciting one to hear for those familiar and unfamiliar with it currently
"Big Boots (Man-o-War)" – Another song that's been bouncing around in rumors from Radiohead fans for decades, "Man of War" was played for a short time in 1995 and then largely discarded. However, the song appeared in the 1998 documentary Meeting People Is Easy, which partially captured the band working on it for the recording sessions for OK Computer.
"I Promise" – This song was performed briefly in the mid-90s and discarded by the band. Known for its particularly direct lyrics and equally direct snare-heavy drumbeat, it's a studio cut that never surfaced after being abandoned during the OK Computer sessions, despite falling perfectly in line with the album's dramatic and dark feel.
The official announcement from the band details the box set.
"Rescued from defunct formats, prised from dark cupboards and brought to light after two decades in cold storage… OK COMPUTER: the original twelve track album, three unreleased tracks and eight B-sides, all newly remastered from the original analogue tapes.
Inside a black box emblazoned with a dark image of a burned copy of OK COMPUTER are three heavyweight 180 gram black 12" vinyl records and a hardcover book containing more than 30 artworks, many of which have never been seen before except by us, and full lyrics to all the tracks except the ones that haven't really got any lyrics.
Under the weighty tome are yet more surprises: a notebook containing 104 pages from Thom Yorke's library of scrawled notes of the time, a sketchbook containing 48 pages of Donwood and Tchock's 'preparatory work' and a C90 cassette mix tape compiled by us, taken from OK COMPUTER session archives and demo tapes.
To avoid accusations of wilful obscurity, a 320k MP3, 16- or 24-bit WAV download of the 23 tracks will be available to you on 23rd June and a download of the cassette will be inside the box."
OKNOTOK is out 6/23 in box set, vinyl, CD and digital formats, and can be purchased here.