I Was At Chris Cornell's Final Concert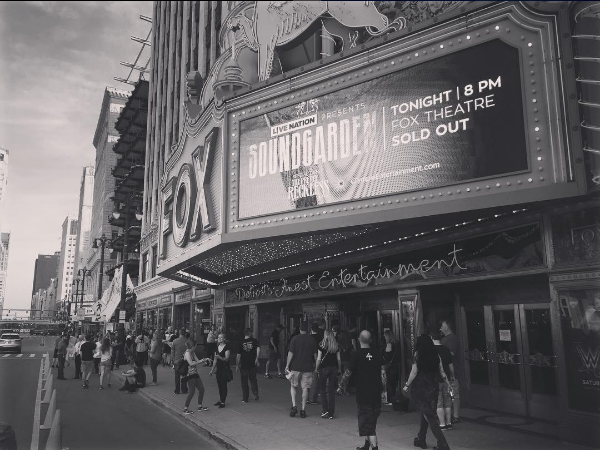 Words: Alex Wood | Photo: @jackcunham
A week has passed since Chris Cornell's death following a Soundgarden concert in Detroit. I was at the show, and am still struggling to find ways to describe the feelings of the following day. This isn't a show review. This isn't a commemoration. This is simply an account of what happened, and an attempt at finding that feeling.
"Wake up, we have to be out of here in 10 minutes."
My girlfriend's voice dragged me out of a haze caused by sleeplessness and hangover. I was lying face down on a bed in what had to be one of the shittiest motels in Detroit. I had no memory of making it back the previous night.
Before I could even sit up, the next sentence followed.
"Chris Cornell is dead."
The words coming from my girlfriend's mouth didn't seem to make sense.
"What?," I mumbled. "We saw him last night."
As if she didn't know that already. I groaned and pulled on my pants. She was pacing back and forth across the small room. She called her mom. We both cracked open a beer. It was 10:45 a.m. on Thursday, May 18.
I'll never forget the tone of her voice as the story unfolded through conversation. Shock and disbelief combined with a sincere sorrow. I reached for my phone, thrown on the floor, nearly out of battery life. There were 14 missed text messages.
My girlfriend was the huge Cornell fan, his work remaining her absolute favorite for more than half of her life. I was certainly a fan, but not to this extent.
She had taken me to see Cornell for the first time at Ravinia the previous summer. Though I had walked into the show a skeptic, 'outstanding' now feels like an understatement as I look for words to describe it. Cornell's talent should go without saying.
She hung up the phone. We were now late to check out of the motel. It didn't matter.
We didn't say much. We just checked our phones, responding to texts and slowly unveiling the available facts.
It still felt impossible. Somewhere in another hotel less than a mile away it had happened. We had been in his presence less than two hours before it happened.
But it happened.
The night before, downtown Detroit had an air of ecstatic energy. Everywhere we went was packed with fans, mostly older, in black, grunge-era t-shirts, talking amongst each other, making friends with strangers. Many were from out of town.
Soundgarden hadn't played in the Midwest since 2014, and these fans were beyond excited for their return.
Our first thought was to drive by Fox Theatre. Though only 12 hours had passed since the show, we thought surely there would be something there. A memorial. Fans. Flowers. A sign.
There was nothing. Just the sad, beautiful, old building. A dark reminder set against the backdrop of a gorgeous day.
We drove to a coffee shop, and when the barista making our drinks politely asked how we were, my girlfriend quickly told him we were at the Soundgarden show. She just couldn't help it. There was nothing else on our minds. A barista's empathy couldn't fix that.
We walked to Third Man Records. Owner Jack White was there. This would usually be exciting, but we hardly cared.
A journalist from a local newspaper walked over and interviewed us, asking if we had thoughts on Cornell. He was a crime reporter that clearly hadn't heard of Chris Cornell before today.
This marked the first time we actually talked about it. Neither of us needed to tell each other how it felt. We knew. The reporter's face was that of a miner striking gold, ours the opposite.
We drove to lunch, and sat at the bar of a local barbeque restaurant.
The barback was already talking about the story to customers, seemingly just excited to have something to talk about. A self-proclaimed fan, he asked how it was. He asked whether we could tell it was coming.
Of course we couldn't.
The performance itself had been nothing short of amazing, far surpassing either of our expectations.
The band ripped through a 20-song set that combined the obligatory classics ("Black Hole Sun," "Rusty Cage") with unexpected deeper cuts ("Ugly Truth," "Blow Up The Outside World").
The show opened with two songs from the late 80s, and closed with 1991's "Slaves & Bulldozers," these choices underlining the band's conscious decision to play their hardest hitting tracks. The closer infamously included a short interpolation of Led Zeppelin's "In My Time Of Dying," which, though poignant, has since been blown out of proportion, and was in fact played often at previous shows.
We sat mostly in silence waiting for our food.
"We saw the last 'Black Hole Sun,'" I said. My girlfriend's eyes looked teary. The silence returned, a feeling in our guts growing as reality seeped in. We ordered another beer.
I never was able to pinpoint the feeling.
The feeling of never getting to see him in person again, never hear a new song. The off-putting feeling of having been so excited for the show for so long, a sort of unjustified guilt that it was his playing there, for us, that this all happened. The image of what happened in his hotel vs. the image of him on stage, seemingly reenergized. The realization that we had gone out to bars while he returned to his hotel.
We drove back to Chicago earlier than we had planned.
Life is strange, and it shouldn't be taken for granted.
Do yourself a favor and revisit Soundgarden, or watch videos from the Fox Theatre performance below.
"Spoonman"
"Black Hole Sun"
"Slaves & Bulldozers"