A Chat With Guitarist Mark Hague: Blotto, Helping Phriendly Orchestra and Beyond
[fblike style="standard" showfaces="false" width="450" verb="like" font="arial"]
For fans, Mark Hague is the type of musician you just have to love.  A key member of two of Chicago's premier jambands (and possibly cooking up a third?), he brings the attitude and perspective of a superfan to what he does on stage.  And of course, as fans, we get to benefit from his drive to expand and improve, as well as his unabashed love of the same music that we do.  Whether performing and recording with Mr. Blotto, re-creating Phish shows with Helping Phriendly Orchestra, or leading the ultimate party-band with Hack 'N Wheeze, Hague's tasteful licks and heads-up jamming sense have been thrilling Chicagoans for years.  The Barn had a chance to catch up with Mark, and discuss bridging the gap between fan and performer.
You've had a tremendous opportunity to play original music as a part of a successful band, but still wear an obvious love for Dead, Phish, Panic, etc. on your sleeve.  Do you still keep tabs on those bands?
Absolutely.  We gig so often with Blotto though that it can be tough.  It's funny because if I want to see Phish or something, I might have to fly out somewhere on a Monday or another "off night" for me.  Panic just played on a Monday, Halloween, so I got to see that.  I pretty much still catch every show I can.  I'm still really into it.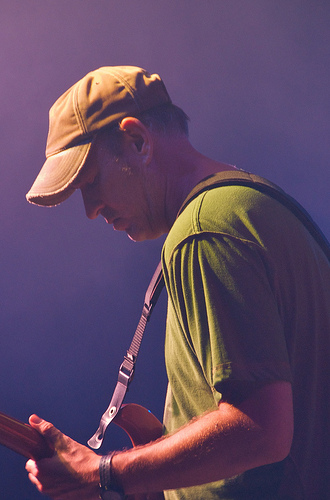 What was the last Phish show you were able to catch?
I saw the UIC Wednesday show.  I loved it.  They were on the ball.  I was disappointed that they didn't play at an outdoor venue.  Originally, I told myself that I wasn't going to see them because of that.  Part of the experience of seeing a jamband in the summertime is being outside and I know lot of people concur.   At the last minute, I was offered a ticket and I couldn't refuse.
There are so many incarnations of Phish as far as their presentation.  You get a different type of sound and approach to the show from era to era.  I found it interesting in 2009 when they first came back, they really kind of tightened up.  Seemed like there were a lot more songs in the setlists and less stretching out.  This last tour, I feel like they've reached more of a happy medium.  Starting to explore again like they used to but still delivering a really tight show with a lot of great songs in the setlist.
When I talked with [Mr. Blotto bassist]Mike Bolger in the spring, he dropped a couple hints about the band recording.  Do you have anything to say about next Blotto album?
We're shooting for March right now.  We're doing some of the overdubs now, but this record is going to be kind of a minimal overdub approach.  In other words, the traditional approach is to go in and do scratch tracks, scratch vocals, then go back and patch things up later.  When we listened back to the roughs, we found that the more we listened to them, the more we felt it just had a great live feel.  So, this should be a bit more raw than past records, which I'm looking forward to.  We just captured so much that was really good, that when we started overdubbing… sometimes it didn't even beat the original recording.  Now we're just going back and patching minor mistakes and editing.
You guy are playing out live so often, when do you find time to get in the studio?
For this record, we've done the most amount of pre-production that we've ever done.  The idea was that we'd go in the studio and not be writing, composing and fixing the tunes as we were recording.  It was the first time we did it like that.  We did a bunch of rehearsals prior to setting foot in the studio and it served us well – we're really happy with the outcome.  In addition to that, which is kind of a break from the past, we are trying to not play any of the material that's on this recording.
I know there have been some unreleased songs that have popped up on setlists recently and fans are curious if they will make the cut.  Sounds like, maybe not?
Exactly, there are a couple we have that we've been trying for the last three records to get down, but we'll forget them or they'll come just under the bar for inclusion on the record.  And yet, they're still in our regular rotation during our sets.  Some things don't just make it to "plastic".  I think about 80% of the material is either brand new or may have been played once or twice.  That way, when we do our release, everything will be nice and fresh -- for us and the audience.
In the past, I've written about Blotto, given its longevity and accomplishments, as an institution.  I also find that given that the "Blotto year" is built around so many special events (Blottopia, other festivals, New Years, Hotel Blotto), there's almost some ritual about the band as well.  Any one of these that you find particularly rewarding or representative of what the band does?
I would say Hotel Blotto.  I think a lot of people, like myself, get the winter doldrums.  You want to be at a fest, but there's not much going on in the Midwest.  Our idea was to put on a fest indoors.
It's really quite a carnival scene.  During the day, there'll be people walking around the hotel lobby with their dogs, you'll have a mini-Shakedown Street, just like they're at a summer festival.  We're pretty proud that we can bring that outdoor festival vibe to a hotel in February.  It has really taken off and it's a pretty singular experience… I've never experienced anything like it from the other side.
Read On For More With Mark... PAGE 2
Are you originally from Chicago?  What do you think this area offers over other cities in terms of working musicians and a scene?
I grew up in the Oak Park area.  I've been living in Chicago for about 25 years and have lived in a lot of the different neighborhoods.
Chicago is one of those music areas that few people migrate to in order to "make it".  New York and L.A. are so industry-centric.  But, Chicago is unassuming in that sense.  You put together a band here and the goal is to play out and get an audience.  It seems like very few set out here after the record deal.
The infrastructure is more organic.  People play here for the sake of playing music, there's not huge push to "make it" as a national band.  We're probably a pretty good example of that.  We do minimal touring… it's not in our sights all the time.  We have the market here and it works for us.  And it's big enough that there are a lot of bands here that can survive that way.
Mr. Blotto Acoustic At Reggie's (by infinirock)
Tell me about Helping Phriendly Orchestra.  How did that project come together?  Was that you're doing or were you approached with the idea?
I started out years ago in a band called Hack N Wheeze.  We played for 13 or 14 years, 10 years in [the now-closed] Griffin's Public House on Halsted, a real legendary place that people just loved.
We covered a lot of Phish and early on, we had a member of Dark Star Orchestra, the late Scotty Larned, playing a B3 with us.  Soon after, he went on to form DSO and we all thought that was such a great idea.  I always had it in my head… I used to joke to the guys… we're gonna start a band called Phish Star Orchestra, and we'd discuss all the details.
We had half the guys in the band that just were not up for it, and I was just barking up that tree forever.  It came to be where we had settled in on the Tonic Room post-Griffin's, and sort of like Seinfeld or a good sitcom, the band just ran its course.  We agreed that it really wasn't going anywhere, we were done with it and decided to end on a high note -- put on some great final shows and call it quits for awhile.  We'd leave it open for a reunion show (we're actually doing one actually on December 1st at the Tonic Room) once or twice a year.
When that ended, I started looking around for guys to put together a band that could be that Dark Star for Phish.  Once I started, it really came together pretty easily.  I was lucky to find a bass player and a keyboardist that could handle all the material --  it is pretty difficult to memorize!
Well it is pretty ambitious, maybe even moreso than DSO given the complexity of the songbook.  Do you find you put more effort into this than you would a typical side project?
Yeah, by a factor of at least five, if not ten!  It's a lot of time; we couldn't believe the amount of work.  But, we figured after a year or so, when we'd got a lot of the heavy lifting out of the way, it would be a lot easier to maintain.  It's like taking a few semesters of music class, studying some of the Phish stuff that I've never covered before.  It's been a lot of fun and a great learning experience.
DSO attempts to capture various sounds of The Dead with difference equipment and lineups.  Would you say you that you try to capture stylistic changes of different eras or years?
 Given the stage we're in as a band, it's not quite as exact as what Dark Star does, but we definitely with guitar gear and keyboard gear.  When we did the '89 show it was just raw equipment and no effects, straight and more song oriented.  When we get to '97, we start bringing out the loop stations, the bells and whistles, then we stretch the material as such.  We typically pick one or two songs from the show and say "let's really go after this jam" and see what we come up with.  The goal was to not be like Dark Star in that we wouldn't try to replicate exactly, but we would take thing where we wanted.
For instance, if we wanted to change tempo or key  in the middle of a jam, we'd just go there.  We think that is what Phish is more about… making instantaneous decisions and not pre-planning things.  We wanted to take that ideology with us and I think we've done it.
Stream: HPO Recreating Phish's 12/29/97 Madison Square Garden Performance
[box type="download"]Download Entire Set (.zip mp3)[/box]
How would you describe fan reaction?
The first couple of shows, we'd literally look out in the audience and see people folding their arms, like "okay, what have you guys got?  Can you really pull this off?"  That was about half the audience.  It was a little intimidating.  We just wanted to break the ice and have people to come along with us.  We're not going to be Phish, this is only our second gig!
Eventually, they have.  It's more relaxed.  Now, you see people grooving in the audience right from the beginning as opposed to ogling us like a spectacle.  I'm glad that transition came.
What are your plans going forward?  Any new things you want to try?
I will say this.  The wheels are turning and I've always got a couple of irons in the fire.  My schedule is already pretty hefty.  But HPO should slow down once we get the material, and we're getting there.  I think we've played over 100 different songs so far.  Now that I'm on the other side of that, I'm thinking what else I want to do musically to expand my horizons.
Mr. Blotto plays Brixie's for The Barn's Second Anniversary Celebration.  The Vasoconstrictors (Phish Tribute) support.  You can win a free admission here.
[fblike style="standard" showfaces="false" width="450" verb="like" font="arial"]