AfroZep: Covering Ground From Fela Kuti To Houses Of The Holy
On paper, AfroZep appears to be a Frankenstein's monster of mismatched parts.  Stripped from their heavy blues roots, it's hard to imagine Led Zeppelin's songs retaining their power. Layered with polyrhythms and funky horn blasts, they would seem to lose all semblance of what makes them such an important rite of passage for rock fans around the world.
Yet somehow AfroZep works, not only as a primer into the dense and sometimes daunting world of West African music, but also as a tribute to one of the most beloved rock bands on the planet. Even without dragon pants and impossible vocal gymnastics, these guys can still get the Led out.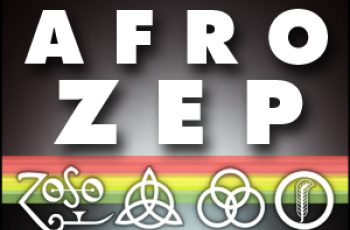 The band is the brainchild of Marshall Greenhouse, one of the founders of Chicago Afro Beat Project. "He doesn't like to take credit for the idea," offers the band's lead guitar player Wilson. "But in all honesty, the band cannot operate without his amazing background and respect of world music."
Actually, AfroZep was one of several musical ideas Marshall had kicking around before the band took off, but it happened to be the one that really piqued vocalist / bassist Ryan Behling's interest.  Marshall found Behling, believe it or not, on Craigslist. While looking for guitarists for the project, Marshall bumped into an old friend, Wilson, at Lollapalooza 2009, after a set by Portugal, The Man.
"We have since hired many horns and percussionists along the way," Wilson explains. "Musically, we like to mix the familiar Zeppelin songs with different types of African music and artists like Fela Kuti, Tinariwen, Mulatu Astatke, Thomas Mapfumo, and Franco Luambo."
Clearly, the goal was to bring a more edgy sensibility than your standard tribute band; a fact that is not lost when asked about the group's influences for this project. "Conceptually, we are influenced by the mash-up thing that's happening with Girl Talk, Dread Zeppelin, Danger Mouse and Jay Z's Grey Album. Also, Easy Star All-Stars. They do a wicked dub version of Dark Side of the Moon."
It is also a chance to stretch their musical legs and expand horizons beyond their ususal musical compatriots. "When we started this project we thought it would be a great way to become better musicians... to authentically recreate these styles. The ongoing collaboration with Seneke West African Percussion Ensemble has helped that."
The project has yielded other musical fruit as well. Wilson gets excited to share exploits of the core trio's original project. "Our primary focus is our psychedelic rock trio, KAVA. The three of us enjoyed working together so much with Afro Zep that we decided to try our hand at original music together. We are relatively new in this endeavor, but we are really having a blast with this project as well."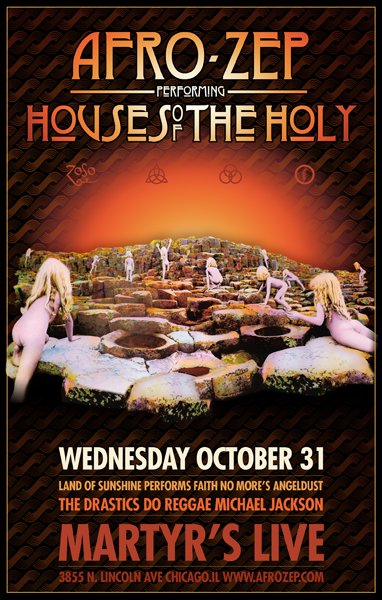 This fall, the band tackles one of their most ambitious undertakings yet, recreating the entire Houses Of The Holy album at home in Chicago on 10/31 and in the heart of Times Square on 11/3 (with stops in Pennsylvania and Connecticut along the way).  There's an interesting story behind how HotH got the nod. "We did not want to do Stairway to Heaven ever!" Wilson explains. "That track is on two very important recordings that we considered: Song Remains the Same and Led Zeppelin IV."
"After many listenings... we are very happy with our choice to cover the album," he continues "It is a fantastic period piece that bridges the older, bluesy rock oriented Zep with the late period anthemic and epic songwriting."
New audiences should come with an open mind "Overall, it's a very enthusiastic response. Sometimes, at the end of a show, a fan will confess they weren't 'so sure' about the concept. But ultimately, after hearing us, they use words like blown-away."
"The shows are great equalizers. The dance-ability of the Fela-influenced jams mixed with the raucous Led Zeppelin really gives the listener a chance get down on the dance floor, or raise their fists to the rock."
So what does the future hold for a band that's winning praise and garnering impressive audiences? Wilson laughs, "Make millions. No, wait... make billions!" But then he gets serious, his love and respect for what he has learned about both styles of music coming through. "We would love to spread the message of African music to new audiences. The similarity between the grooves is quite surprising. Come check it out and tell us what you think."