Billy Corgan Opens Tea Shop In Highland Park, Performs For Grand Opening
He's bringing Smashing Pumpkins to a suburban arena in October, but Billy Corgan will conquer toney North Shore enclave of Highland Park with...tea?
Not only is Corgan the proprietor of Madame ZuZu's, he entertained tea fans last Thursday with a three sets of solo music (setlist below).  How did that go?  Judge for yourself as the performance is archived at archive.org.  Sounds pretty good to me.
Certainly the music contributed to the alluring atmosphere that one looks for in a tea shop these days.  The always reliable Zagat blog describes it thusly:
The name suggests that this may be a front for a brothel, and single red light bulbs hanging in the black brick entryway don't do much to dispel this image. The immediate presence of pastries on the counter eased our concerns - it was all sweets no scandal once we were inside. In addition to pastries, the intimate café serves tea and pour-over coffee.
I guess the tea is pretty good, too.  But watch out: Highland Park prices in affect.  One cup can run as much as $7.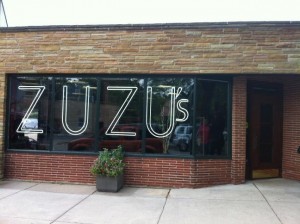 1 pm Set
Jesus Is The Sun, Song For A Son, In The Arms Of Sleep, With Every Light, The Celestials, Today
4 pm Set
By Starlight, Jupiter's Lament, Pale Horse, Rite Of Spring, Inkless, Muzzle,
7 pm Set
Tonight, Tonight & Luna, Soot and Stars, [Hank Williams Tune], Violet Rays, Pinwheels, Lily, Daydream, Stand Inside Your Love