David Bowie Has Died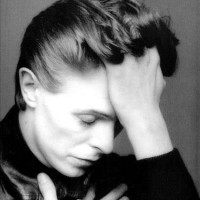 "Heroes" outtake by Masayoshi Sukita
Following an 18-month battle with cancer, David Bowie passed away peacefully last night, according to a post on his Facebook page.
The post reads, "January 10 2016 – David Bowie died peacefully today surrounded by his family after a courageous 18 month battle with cancer. While many of you will share in this loss, we ask that you respect the family's privacy during their time of grief."
His death came two days after his 69th birthday and the release of his latest album, ★, pronounced Blackstar.
Though Bowie had kept his health issues private, rumors of poor health have existed for years. The artist had not performed in public in a decade and prior to 2013's The Next Day many fans had assumed he retired from recording.
Though many artists have since paid tribute to Bowie via social media, few were closer than his longtime producer Tony Visconti, who revealed that Blackstar was recorded as Bowie's "parting gift" to fans in the following Facebook post:
"He always did what he wanted to do. And he wanted to do it his way and he wanted to do it the best way. His death was no different from his life – a work of Art. He made Blackstar for us, his parting gift. I knew for a year this was the way it would be. I wasn't, however, prepared for it. He was an extraordinary man, full of love and life. He will always be with us. For now, it is appropriate to cry."
Releasing more than two dozen studio records since 1967, Bowie left a mark of influence on the music scene that few others have come close to.
Watch Bowie's final video, for "Lazarus," below.