Watch David Bowie's Super Weird Video For "Blackstar"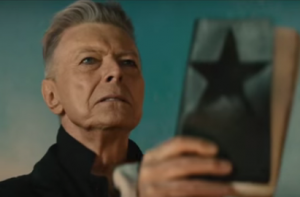 David Bowie has shared a video for the title-track for his new album, Blackstar, to be released January 8.
Ten minutes in length, the video matches the song's strange, creepy feel, unpleasant imagery practically a constant, with Bowie shown singing blindfolded throughout much of it.
As promised, the song features New York City jazz musicians, with horns entering and exiting throughout. Ambient noise and wordless vocals also combine to create its eerie feel. Featuring a number of widely-varying musical sections, the piece is certainly strange, even for Bowie.
Frankly, it's a song and video that only Bowie could or would ever attempt to pull off.
Watch "Blackstar" below.