Watch Bruce Springsteen Cover David Bowie At Tour Opener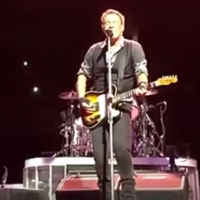 Bruce Springsteen and the E Street Band began "The River Tour" in Pittsburgh on Saturday, where The Boss gave a nod to the recently deceased David Bowie.
Springsteen shares a heartwarming story of Bowie having supported his songwriting early on, leading to Springsteen taking a Greyhound bus to visit Bowie during the recording sessions for Young Americans in Philadelphia.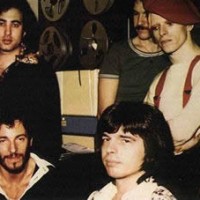 Mike Garson, Bruce Springsteen, Tony Visconti and Bowie in 1974
Bowie had, in fact, been a big supporter of Springsteen, having even covered "It's Hard To Be A Saint In The City."
Springsteen performed "Rebel Rebel" in an energized but straightforward fashion, the song fitting the performer's style well.
Watch Springsteen's tribute to Bowie below in anticipation for his show at United Center tomorrow, January 19, as well as Bowie's cover of "It's Hard To Be A Saint In The City."