Dead Sounding Phish | A Song Analysis & Comparison
Dead Sounding Phish: A Song Analysis and Comparison
By: Matt Fricks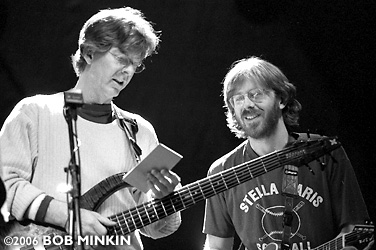 Since the announcement of Trey Anastasio as the lead guitar player for the GD50 / Fare Thee Well / Reunion / Goodbye / Whatever shows in Chicago this July, there has been no shortage of opinions of how well of a "fit" Trey will be in the style of Jerry Garcia.
While I'll refrain from chiming in with one of my own, I figured that it would be fun to do a song analysis with The Grateful Dead and Phish catalogs – comparing some of the notable pieces from both bands that I believe have some strong similarities.
Here are six comparisons.  Have a listen in the Spotify Playlist below and judge for yourself.
"Fire on the Mountain" and "Meatstick"
This is one of the more obvious comparisons that I'll look at.
Both "Fire on the Mountain" and "Meatstick" have resounding similarities, beginning with a near-identical time signature. The steady pace of the tempo is highlighted by the chord structure as opposed to a more dominant main lead riff.
The chord structures in both pieces are not complex and they do not change for the duration of the songs. Consisting of just two major chords (both one full step apart from each other), the strumming is guided by the prominent bass lines of Phil Lesh and Mike Gordon before reaching vibrant and harmonized choruses.
"Tennessee Jed" and "Alaska"
Once again, these are two of the more easily-recognized comparisons. Aside from both song titles and the lyrical themes pertaining to places in the United States, we have another set of songs that have nearly identical in steadily-paced strumming patterns.
In "Tennessee Jed" and "Alaska," the choruses are the ultimate crescendos, rather than a frequented instrumental passage used as the peak of a jam.
The biggest similarity that really seals this comparison is the shortest in terms of duration. Just before reaching the pre-chorus, both The Grateful Dead and Phish strike a powerful minor chord that pushes the major key of the chorus into a higher elevation, making it much more prominent.
"Feel Like a Stranger" and "Punch You in the Eye"
This is one that I'll probably get questioned for – and understandably so.
My original thought for comparing "Feel Like a Stranger" and "Punch You in the Eye" came to mind when I thought about looking at common set openers for both bands. Both songs are heavily featured as first or second set openers in a live setting.
From there, additional similarities came to the forefront. Lyrically, these are not related at all…not even close. However, take a listen to structure of the instrumentation. Both "Feel Like a Stranger" and "Punch You in the Eye" feature staccato notes, particularly the guitar lines that are dominant with hammer-on riffs.
"Punch You in the Eye" is certainly faster-paced, but the alternating notes that are usually one-full step apart from one another are the true musical focuses of both songs. Even the overall sound emulates an aura of spaciousness so that even the subtleties in the instrumentation can be heard, giving both "Feel Like a Stranger" and "Punch You in the Eye" a strong sense of depth.
"Wharf Rat" and "Lifeboy"
Two of my favorites from both bands. I will briefly note the somewhat-similar opening guitar lines in both "Wharf Rat" and "Lifeboy" before getting into the true reason for this particular comparison: the lyrics.
Here, we have the writing teams of Jerry Garcia and Robert Hunter (The Grateful Dead) and Anastasio and Tom Marshall (Phish) at their very best. Lyrically, both songs are about faith and beliefs pertaining to human existence. They explore the absence of fairness in life from the perspective of a person who is lost and desiring something more.
In "Wharf Rat," we are told the story of August West, a man whose relationship with his maker has deteriorated due to a harsh life as he longs for an escape from the path that he is on. "Lifeboy" tells of an unnamed character's dissolving connection with God as this character nears destinations without answers or validation despite constant displays of faith through prayer. These are heavy subject matters handled in very delicate ways that give fans some of the most mesmerizing and thought-provoking listening experiences of both catalogs.
"Brokedown Palace" and "All of These Dreams"
Both subtle pieces, "Brokedown Palace" and "All of These Dreams" are very traditional-sounding, musically and lyrically.
"All of These Dreams" is particularly reminiscent of a Grateful Dead ballad with its relaxed tempo and small piano and guitar inflections that layer the verses. Major chords tend to lead the song through its verses before a minor chord punctuates the emotional aspect at key moments.
Digging into the lyrics, we have both songs using a river a symbol of guidance and peace. "Brokedown Palace" and "All of These Dreams" also evoke "sendoff" messages for its listeners ("Fare thee well…" and "All of these dreams would be yours to pursue…").
"Touch of Grey" and "Devotion to a Dream"
Both "Touch of Grey" and "Devotion to a Dream" immediately launch into similar strumming patterns and tempos.
Neither song has much of a lead guitar riff, as both Jerry and Trey settle back into a steady groove that gives the chord progression the main focus while little subtle lead inflections trail in the background.
The major key is dominant here in both tunes and rarely do we come across a minor chord change (though it does occur at similar points in both songs).
I also remember first hearing "Devotion to a Dream" when Fuego was released last year and noticed something very familiar about the vocal melodies of the verses and pre-chorus: it bears a strong resemblance with the bridge of "Touch of Grey" ("It's a lesson to me…"). Cue the prominent backing vocals and we have ourselves two upbeat jam-rockers from The Grateful Dead and Phish.
For more Dead / Phish fun, check out our feature "Hey Phish... the Dead Did It First!"