Hanging With Shakey: Photos Of Neil Young Shmoozing With Rock Legends
I recently finished Neil Young's autobiography Waging Heavy Peace -- and while I'll save all my thoughts on that tome for another post, one of the things that did stand out was how much he values the friendships in his life, whether they be musical, business or otherwise.  At around the same time, I came across a photo of Neil just chilling out with Elton John, perhaps backstage somewhere, and the moment really captured the spirit that had come through in the book.  It made me recall some other shots I've seen over the years -- Neil has been such a friend and collaborator... even at the highest levels of stardom -- that so many photos exist with true musical icons from all phases of his career. I wanted to gather them all in one place to create a collage and I think it emphasizes my point.  Here it is: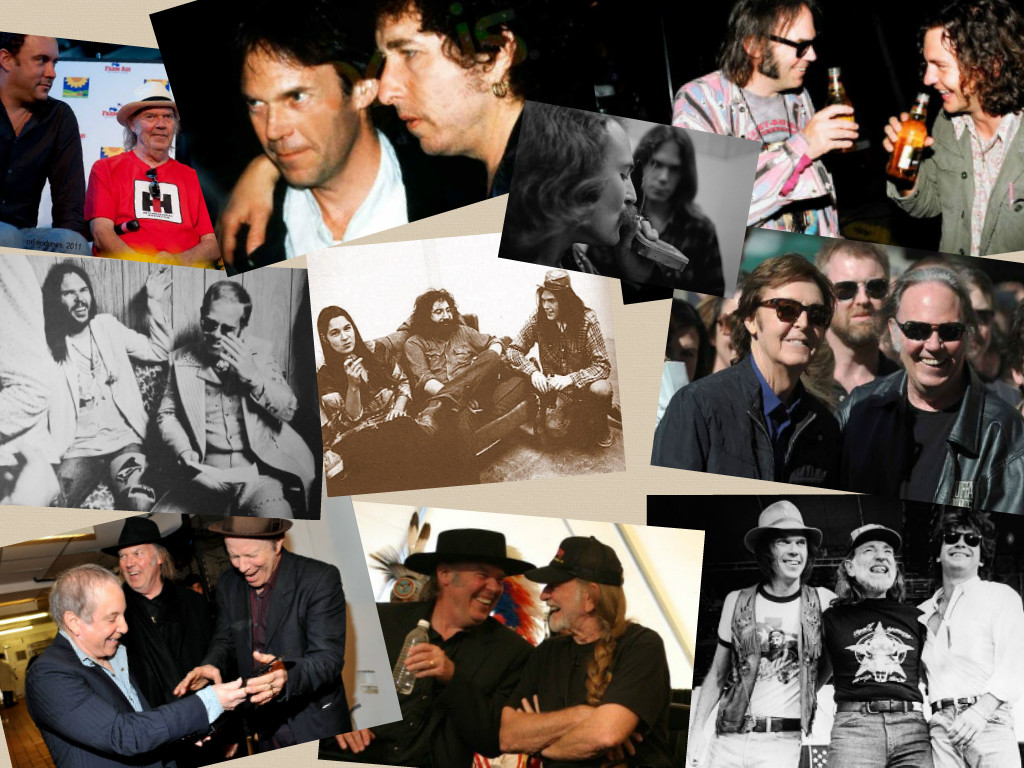 Clockwise (starting in upper left corner): Neil looking supsiciously at Dave Matthews, Neil chumming with Bob Dylan, Neil observing David Crosby smoking a joint, having a beer with Eddie Vedder, photo-bomber looking on while Neil and Sir Paul McCartney hang, early Farm Aid Days, skinny Neil with Willie Nelson and John Mellencamp, late Farm Aid... a bottled water with Willie, a candid moment with Tom Waits and Paul Simon, Neil and Elton in the 70s.  Center: with Jerry Garcia.