Hey Phish... The Dead Did It First!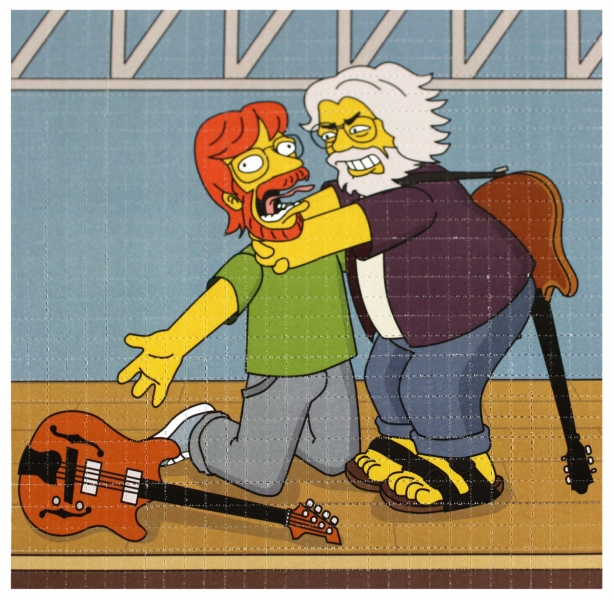 Even their most hardcore fans acknowledge that there would be no Phish (or certainly a radically different version) without the trail blazed by the Grateful Dead.
Starting with the marriage of jazz improvisation with rock instruments and sensibilities, but continuing on through borrowed elements as innocuous as the two set format, mail-order ticketing, audience recording / taper's sections, and blow-out holiday gigs, both bands cultivated their loyal fanbases from a basic framework that shares many similarities.
Of course, Phish has managed to define themselves as a unique and innovative act in their own right, even from their earliest years.  There are countless creative aspects of the band that just scream Phish -- things that you can't even imagine the Dead attemping -- even as they are replicated again by the jambands that have come after them.  But for Phish fans not familiar with the Dead's career, you might be surprised at how many of Phish's hallmark achievements the Dead actually did (at least in some form) first.
Here's a few....
Instrument Switching
As versatile and accomplished as they are, Phish sometime can't help a bit of showing off, pulling off dazzling mid-set rotation jams (12/29/96, 8/1/97) and incorporating an instrument switch into each performance of the oddball rarity "Walfredo".
When the Dead did this on April 1, 1980, it was part of an April Fool's Day prank.  Opening the show with Chuck Berry's "Promised Land", Phil and Mickey took on guitar duties, Jerry and Brent manned the drums, Billy on bass and Bobby behind the keys.
Yes, the Dead did it first, but what a trainwreck!
[mp3j track="Promised Land 4/1/80@http://ia802300.us.archive.org/25/items/gd80-04-01.sbd.bertha-ashley.26178.sbeok.shnf/gd80-04-01Berthad1t02.mp3"]
The Vocal Jam
The a capella vocal gymnastics at the end of "You Enjoy Myself" have long been one of the most head-scratching but strangely alluring aspects of the band's performance for newcomers to the music of Phish.  A signature part of their signature song, it can really help define what they are all about.  At times, the band has also has incorporated a similar vocal style to versions of "Sneaking Sally Through The Alley"
While not exactly reminiscent of the "UFO landing" sounds of the freakiest YEMs, The Dead also showcased a love for scat and layering cool vocal patterns in some of their tunes.  Check out one of the versions of "He's Gone" (skip to 8:00 mark of the version below) or an extended "And We Bid You Goodnight" for a glimpse of them doing it first.
[mp3j track="He's Gone 6/22/73@http://ia902606.us.archive.org/24/items/gd73-06-22.sbd.cribbs.17270.sbeok.shnf/gd73-06-22d4t01.mp3"]
[mp3j track="And We Bid You Goodnight 4/29/71@http://ia902304.us.archive.org/2/items/gd71-04-29.sbd.frisco.16782.sbeok.shnf/gd71-04-29d3t13.mp3"]
The Contemporary Cover
While both bands liberally used cover songs to round out setlists throughout their careers, Phish has been specifically reknown for tossing tune of more recent vintage into their set -- either as means to showcase a newer tune they love or as a way for Fishman to get a laugh.
The Dead were not immune to either of these tactics.  Hell, when they started in 1965-66, they were regularly playing Dylan songs from Bringing It All Back Home,  Wilson Pickett's "In The Midnight Hour" (sometimes stretched waaay out, like the 18 minutes version below) and "Dancin' In The Streets".
[mp3j track="It's All Over Now Baby Blue 9/16/66@http://ia700804.us.archive.org/11/items/gd1966-09-16.117435.vinyl.sbd.indidarkstar.flac24/07.mp3"]
[mp3j track="Midnight Hour 9/16/66@http://ia600804.us.archive.org/11/items/gd1966-09-16.117435.vinyl.sbd.indidarkstar.flac24/09.mp3"]
Comic effect?  Yup, they could pull that one off, too.  Check out Pigpen's attempt at "Hey Jude" from 2/11/69.
[mp3j track="Hey Jude 3/1/69@http://ia802306.us.archive.org/23/items/gd69-03-01.sbd.16track.kaplan.4030.sbeok.shnf/gd69-03-01d2t10.mp3"]
The Dead even played the the #1 song in the country as late as 1987.  Sure it was Los Lobos' version of the Richie Valens classic "La Bamba", but it made for a nice jam out of Good Lovin'!
Outrageous Soundcheck Jams
Phish graced fans with glorious free form and open soundcheck jams before most of their major festivals, thankfully broadcast (and recorded) for the masses by the Bunny Festival radio stations.  Clifford Ball and Lemonwheel produced some monumental soundcheck jams that stand up to some of the more thrilling improvisations they've played in front of paying audiences.  The Bethel "Waves" technical rehearsal from 2011 still stands up to one of the most exploratory bits of playing of this era.
But hand it to the Dead here...  Their soundcheck for the Watkins Glen Festival (7/27/73) was two sets!  It also features one of the most insane bits of improvisation they've ever accomplished.  The band at one of their peaks playing with no rules whatsoever -- starting from a complete standstill and just going forward.  Oh yeah, it was the day before three quarters of a million people showed up to see the Dead, Allman Brothers and The Band. Damn!
Narration
At his most lucid, Trey could spin a yarn in a "Harpua" or "Forbin's" that was only tangentially related to the Gamehendge/Harpua story, but was so captivating, so rich in narrative power, and so improvisational, you couldn't help but be swept away.
The same can be said for some of Pigpen's most famous "raps".  Usually coming during the breakdown of a twenty or sometimes thirty minute romp through a "Good Lovin" or "Lovelight", he'd get to talking and it'd be more like preaching -- commanding the room and taking the band along with him.  Whether pairing off Deadheads in the crowd to make a potential love connection or telling a musical joke (the famous "Brooklyn Bridge rap" from 4/17/71 is the seminal example here), he had everybody in the palm of his hand.
[mp3j track="Good Lovin 4/17/71@http://ia902302.us.archive.org/19/items/gd71-04-17.sbd.nayfield.121.122.sbeok.shnf/gd710417d2t03.mp3"]
The Horns Tour
Phish famously toured in the Summer of 1991 with Giant Country Horns, and brought Dave "The Truth" Grippo and his coh0rts around the country for various runs in varied formations several times in the early 1990s.  Their intricate charts and bold arrangements made them one of the most frequently requested "bring backs" among Phish fans more than 20 years later.
In 1973, the Dead embarked on a September Northeast run with the Dough Sahm Band opening.  Sahm's horn section featuring Martin Fierro (sax. who'd play with Jerry in Legion of Mary with Merl Saunders) and Joe Ellis (trumpet) were invited to join the band nightly on this tour, primarily on "Eyes Of The World" and "Weather Report Suite" / "Let It Grow" but on a handful of others as well.  Check out this version of "Let It Grow" from 9/21/73 (The Spectrum) for a full on horn meltdown.
[mp3j track="Let It Grow 9/21/73@http://ia601207.us.archive.org/3/items/gd1973-09-21.127554.sbd.boswell.smith.flac16/gd1973-09-21s2t08.mp3"]
But for a real education on GD with horns, be sure to check out the 90's Branford Marsalis sit ins.  One saxaphone does not a horn section make, but man, talk about challenging setlist and expert improvising!  Find his contributions and more breathtaking horn / jazz sit-ins in our January 2014 feature, Dead Is Jazz.
For more Dead / Phish fun, check out our recent feature Dead Sounding Phish.