Kimockowitz and Beyond: A Chat With Guitarist Steve Kimock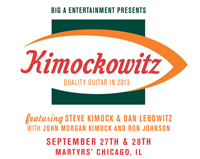 CLICK THIS IMAGE FOR A CHANCE TO WIN TICKETS!
I think I stumped Steve Kimock with the very first question of our interview.  With an upcoming weekend of shows at Martyrs with ALO guitarist Dan Leibowitz, I was curious as to how these two like-minded pickers first hooked up.  "Over the years, we've just gotten better and better at playing together and have enjoyed it more and more," KImock offered after initially coming up empty.  "I think that has obscured whatever the origin was."
And I suppose their first meeting doesn't matter, as the pair are poised to join forces as the formidable Kimockowitz, with bassist Ron Johnson and Steve's son John Morgan Kimock on skins.  For Steve, this group is just one of many ensembles he's contributed to talent to during an impossibly busy summer and fall.  He has flexed his guitar muscle on stage and in the studio with accomplished musicians from Allman Brothers Band, Bob Weir, Bill Evans and his old friends in Zero.  We'll forgive the memory lapse as he explains, "I'm in a brain depleted condition since I've been on the road and in the studio constantly working my fingers to the bone."
Unlike some of his more recent outings as a band leader, this time he'll eschew the keyboards in favor of the dual guitar approach.  "Mostly what I like about two guitars is they tend to sound like five of anything else,"  Kimock explains regarding the sound of this four piece.  "In a way... it's a really big band.  You can orchestrate things in ways that you can't with any other instrument.  The guitars work together in a special way and I know there's nowhere I can go where Dan isn't already -- with the instruments, the tunings, the approaches.  There will be more range in the material and more variety"
While Steve's improvisational chops and jazz-leaning songwriting will undoubtedly will play a key role in the weekend's proceedings, I was curious as to what role vocals will play in this band, which tends to fluctuate from project to project in the Kimock world.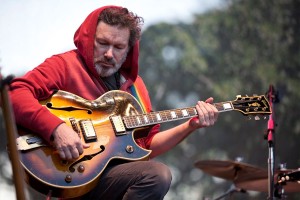 "I've rarely steered away from the vocal stuff by design.  If I had my wish, my band would be like the Beach Boys.  With Joni Mitchell and Chrissie Hynde!  Just stacked with vocalists," Steve offers.  "Since they're taken, Dan's not afraid to sing and I'll sing a song or two, which I would do more of if I could sing worth a damn".
Regarding that studio time, the output of which Steve simply refers to as the "rekkid", it's been a labor of love.  After steering away from the studio for a long time, he's afforded himself the time and resource to see his musical vision through.
It may have also borne fruit in the form of a brand new project.  While Steve has hit the road with John Kimock as a member of the band for several years now, we might be seeing the first hints of a father-son duo project.
"John keeps a set here in the studio and we play whenever we can.  Sometimes he's the only one that shows up so we've developed a 'two-man-one-man-band' routine that absolutely blows my mind," Steve explains with no lack of pride.  "He is one of these guys that if he can play three or four things at once... he'll play three or four things at once!  He'll play the drums, do sequencing on the computer, he'll play the glockenspiel, bells, melodic percussion.  He even plays lap steel and guitar, too."
It's the type of chemistry that we hope spills over into the Kimockowitz gigs as well.
Regarding the rest of his busy summer (and possible plans for the future), Steve seemed excited about a reunion with his old friend Bobby.  " I got to sub for Ratdog at Peach Fest and also sit in with the Allmans, which was a lot of fun.  I'm hoping to pick up an occasional Weir related event in the next year.  I noticed it was just announced that Furthur is taking a break  Maybe I'll got a couple more Bobby things in there.  I dig it.  I've been playing with Weir since my early twenties, we've developed real chemistry."
You can win a pair of tickets to this weekend's show!   Check out our contest page HERE!