Sights & Sounds | Steve Kimock in Chicago During Fare Thee Well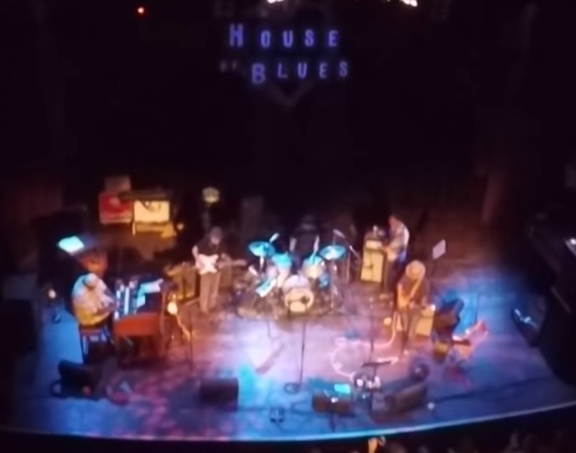 Steve Kimock was among the more popular alternatives offered by fans who objected to Trey Anastasio to join the core four at Solider Gield.  While Trey ultimately wowed the crowd during the Fare Thee Well concerts, it's not like "Jerry's favorite unknown guitarist" wasn't available to the true believers over the course of the weekend.
Kimock played a pair of brunch shows with Jerry Joseph at City Winery and fronted his own all-star Garcia tribute for two sets over the course of a long day at the House of Blues.
Let's sample a bit of the sights and sounds from his Chicago barnstorming.
Here's the second of two brunch gigs with JJ, courtesy of Z-Man on archive.org.  It's an interesting look for Kimock, who pares things down to accommodate the duo format and the acoustic, sit down setting.  Check out the "Let It Be" and "Powderfinger" quotes in "Good Sunday" and "Yellow Ribbons" respectively.
[box type="download"]Dowload Entire Set (mp3 .zip) via archive.org[/box]
The House of Blues shows found him more in his electric wheelhouse.  The setlist for the afternoon show was pretty cheeky, especially given that three of the songs in the Jerry show were Dylan songs, and two of those ("Gotta Serve Somebody", "Highway 61") were not tunes the big man was particularly known for.
But he certainly made use of his support cast: Jackie Greene, JGB keyboardist Melvin Seals, longtime collaborator Bobby Vega and longtime son John Morgan Kimock.
Gotta Serve Somebody, Ship of Fools, Eyes of the World, Get Out of My Life Woman, It Takes A Lot to Laugh, It Takes a Train to Cry, Don't Let Go> Slipknot! >Don't Let Go/NFA Jam > Highway 61 (w/Elizabeth Reed tease)
"We're gonna take a break for a whole bunch of hours and we'll be back later tonight," he remarked to the crowd at shows end.  Cheeky indeed.
[box type="download"]Dowload Entire Set (mp3 .zip) via archive.org[/box]
Here's video of the Don't let go from the appropriately named YouTuber Kimock7.
Adam Huston caught the majority of the late night gig in this video (it's missing the show opener "Tore Up Over You"), in which Steve welcomed Jerry Joseph to the HoB stage for some guitar and vocals.  The group added 10 additional songs, including the Toots Hibbert classic "54-46 (That's My Number)", which I'm not aware of Jerry ever covering.  But the instrumental Stella Blue (~1:27:00 in the video) pretty much silences whatever other criticisms you may have.  Simply gorgeous.
Tore Up Over You, Expressway To Your Heart, Thats What Love Will Make You Do#, Harder They Come#, 54-46 (That's My Number)#, Shakedown Street, I Shall Be Released, Bertha, Stella Blue, Sugaree

# with Jerry Joseph on guitar and vocals
A fine way to wrap up Fare Thee Well Weekend to the sold out crowd in attendance.