LCD Soundsystem's First New Release In Five Years Is A Depressing Christmas Song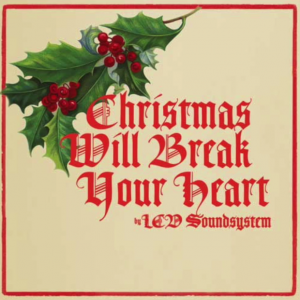 Though LCD Soundsystem's members have stayed busy with solo projects since the band's well-publicized dissolution in 2011, the group surprised fans on Christmas Eve with a new single, titled "Christmas Will Break Your Heart."
The downbeat and overall depressing holiday song features many of LCD's crucial members and is available for purchase on iTunes or streaming on Spotify, as well as being pressed on a 7" limited to 1,000 copies.
Singer James Murphy said this of the track:
"So, there's been this depressing Christmas song I'd been singing to myself for the past eight years, and every year I couldn't remember that I wanted to make it until December, which is just too late to actually record and release a christmas song… but this year, Al Doyle had a short break between Hot Chip tours where he could be in NYC, and Pat and Nancy were home, and Tyler agreed to fly out from Berlin for a few days, so we all recorded this together, reserved a pressing plant sloy, and our firend Bob Weston was available to master it quickly- so this means, less than two weeks after we recorded it, there is actually a Christmas 7", which feels like something that could only have happened a very, very long time ago.
Anyway, for the holidays we give you the previous, very long run-on sentence, and this song: 'christmas will break your heart', which is another one of those songs which had about 75 lines of lyrics, though we've knocked down to 8 to keep the suicide rate in check
have fun!"
Though LCD Soundsystem has not announced any plans beyond the single, sources have long rumored a festival-centered reunion this summer.
Listen to "Christmas Will Break Your Heart" below.