Listen To A New Courtney Barnett Song, "Three Packs A Day"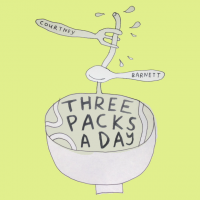 Courtney Barnett began her career by self-releasing songs on her own Milk! Records. With the label's roster having rapidly expanded with Barnett's fame, the label will release a compilation titled Good For You on February 14th.
Recorded over a single week in September 2015 in Melbourne, the compilation features songs from Ouch My Face, Jen Cloher, The Finks, Fraser A. Gorman and East Brunswick All Girls Choir as well as Barnett herself.
Barnett's contribution is predictably witty, featuring lines like "MSG tastes good to me/ I disagree with all your warnings/ It can't be true that they use glue/ To keep the noodles stuck together."
Stream "Three Packs A Day" below.