Milwaukee '91 Show To Be Released As GarciaLive Vol 8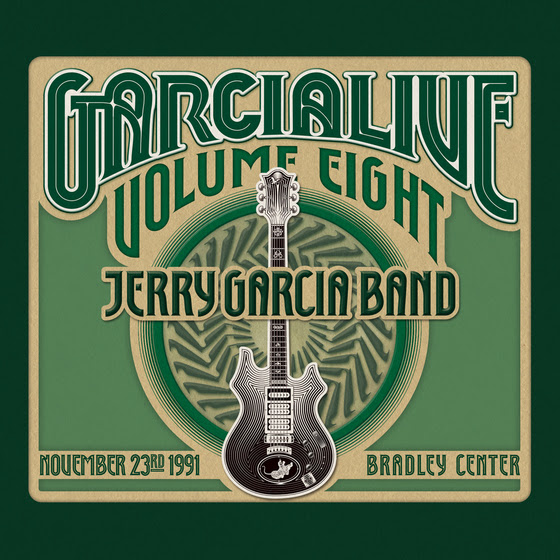 On March 10th, the first in a series of releases commemorating Jerry Garcia's 75th birthday (August 1, 2017) will be released to the public with an impressive array of options.  Packages available include T-shirts and posters as well as the show from November 23, 1991 in MIlwaukee in both physical and digital media.
The show itself, featuring the classic JGB line-up (Jerry, Kahn, Seals, Kemper, LaBranch & Jones) features 15 songs over two discs, including this magnificently recorded cover of Eric Clapton's "Lay Down Sally".
UPDATE:  Here's "Reuben and Cherise"
Organist Melvin Seals quipped, "That was the magic band...we all knew we had something special. That was the band."
While Jerry primarily worked his JGB magic closer to home, this show at the Bradley Center was one of the last times that Midwestern fans had a chance to catch them.  
GarciaLive Volume Eight – Track Listing
DISC ONE / SET ONE
1. CATS UNDER THE STARS 
(Jerry Garcia/Robert Hunter) 
2. THEY LOVE EACH OTHER 
(Jerry Garcia/Robert Hunter) 
3. LAY DOWN SALLY
(Eric Clapton/Marcy Levy/George Terry)
4. THE NIGHT THEY DROVE OLD DIXIE DOWN
(Robbie Robertson)
5. REUBEN AND CHERISE
(Jerry Garcia/Robert Hunter)
6. MONEY HONEY
(Jesse Stone) 
7. MY SISTERS AND BROTHERS 
(Charles Johnson)
8. DEAL
(Jerry Garcia/Robert Hunter)
DISC TWO / SET TWO
1. BRIGHT SIDE OF THE ROAD
(Van Morrison)
2. WAITING FOR A MIRACLE
(Bruce Cockburn)
3. THINK
(Jimmy McCracklin/Deadric Malone) 
4. SHINING STAR
(Paul Richmond/Leo Graham)
5. AIN'T NO BREAD IN THE BREADBOX
(Norton Buffalo)
6. THAT LUCKY OLD SUN
(Haven Gillespie/Beasley Smith)
7. TANGLED UP IN BLUE 
(Bob Dylan)