Old Shoe & Family Groove Company Swap Sit-Ins For Covers In Evanston
Among Chicago area bands, perhaps no two embrace the concept of community and family more than Old Shoe and Family Groove Company.  For FGC, it's right there in the name.  Old Shoe, of course, released a fine album entitled Family earlier this fall.
So when these two paired for a gig on the eve of Thanksgiving, one of the most family-oriented holidays on the calendar, it was no surprise that they decided to mix it up a bit.  Old Shoe keyboardist Joe Day lent his vocals to to FGC's cover of Stevie Wonder's "Living For The City", while Adam Lewis trades guitar licks with Shoe's Matt Robinson on Traffic's "Dear Mr. Fantasy".
There's nice video of each of these sit ins from 27 Live in Evanston below.
The bands will hook up again one more time before the end of the year.  Old Shoe will perform their final Chicago show of 2013,  a FULL holiday show (no opener) at Cubby Bear on Thursday, December 19th.  Adam will again make an appearance.  Also on the bill and helping to spread some holiday cheer will be FGC's Jordan Wilkow, Wavy Dave of Cornmeal, Paul Bolger of Mr. Blotto, Eric Lambert, and Mr. Jaik Willis.
We've got tickets to give away to this blowout and a slew of other Chicago area holiday gigs.  Check out our contest page HERE.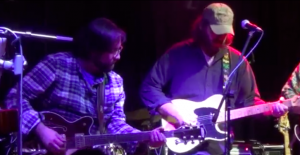 Adam Lewis & Matt Robinson