No Guitars In The Jazz Underground
We're falling behind again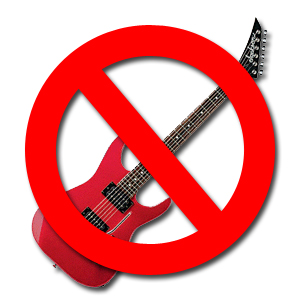 … but bear with us as we catch up.  This installment of
Notes From The Jazz Underground
features the playlist based on the January 17th show.
The theme of the show was "NO GUITARS!!" After having done 4 straight shows that were dedicated to guitar slinging genius (Zappa, Scofield, McLaughlin and Santana), host Paul Abella decided to take a break from the six stringers and cleanse the palate a little bit. The only guitar that shows up at all is some rhythm guitar on the Charles Earland tune.
While he whips up a fresh batch of tunes for this program, every one of these artists has been seen in NFTJU land before.
The circa 1972 Stan Getz Quartet has been on the show before, but the Live at Montreux disc is a relatively new addition to the WDCB collection. While Abella stopped short of his plan to play the whole thing -- the middle three songs were jazz standards (Benny Golson's "I Remember Clifford", Billy Strayhorn's "Lush Life" and Chick Corea's "Windows") -- and there's no sense in playing those on a show dedicated to the fringes. So, this list features the four wild and wooly tunes that bookended the concert, all written by Chick.
Also from Montreux, Bobby Hutcherson's west coast group from 1973 was killing.
Things get weird with Anthony Braxton and Dave Douglas (playing with the all percussion group aptly named So Percussion), loud with Barn favorites Benevento Russo Duo, sexy, sultry and R&B-like with Esperanza Spaulding and just flat out awesome with Donny McCaslin. The drum solo in "Tank" proves that Carl Palmer was just a severe badass.
Notes From The Jazz Underground runs Friday nights on WDCB 90.9 FM.
Complete Playlist
| | | |
| --- | --- | --- |
| Track | Artist | Album |
| Night Marchers | Medeski, Martin & Wood | Shack Man |
| Captain Marvel | Stan Getz | Live at Montreux 1972 |
| Day Waves | Stan Getz | Live at Montreux 1972 |
| La Fiesta | Stan Getz | Live at Montreux 1972 |
| Time's Lie | Stan Getz | Live at Montreux 1972 |
| Leaving This Planet | Charles Earland | Leaving This Planet |
| Composition No. 69 Q | Anthony Braxton | Four Compositions (Quartet) 1983 |
| One More News | Dave Douglas & So Percussion | GPS vol.3 |
| THe Mad Hatter Rides Again | Jeff Coffin | Live! |
| Becky | Benevento Russo Duo | Best Reason to Buy The Sun |
| She Got To You | Esperanza Spaulding | Esperanza |
| Song of Songs | Bobby Hutcherson | Live at Montreux |
| Praia Grande | Donny McCaslin | Casting For Gravity |
| Tank | Emerson Lake and Palmer | Emerson Lake and Palmer |