The Benevento Russo Duo Return To Freaks Ball XVII, Two Uncirculated Recordings Emerge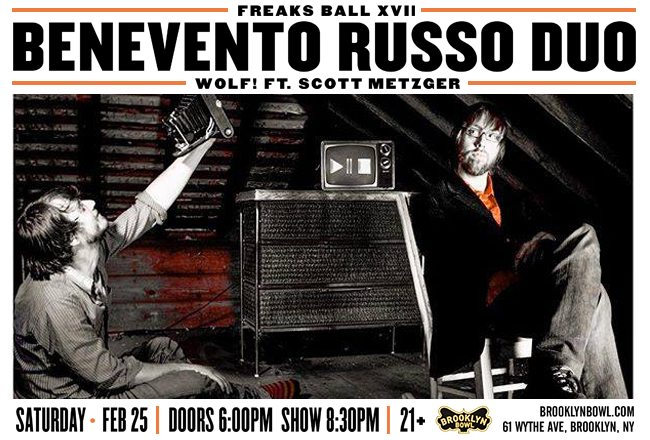 Lots of show announcements elicit a "wow", but few actually send me to the web to check flight prices.
Ladies and gentlemen, we have one of the latter.
The Benevento Russo Duo have sorta kinda eased back into a state of un-retirement, jumping from impromptu or "secret" shows, adding Oteil for a set, and a festival slot (on a freaking boat of all places).
But looky here:  Marco and Joe are back for a full on headlining show as part of the Freaks Ball XVII, taking place February 25th at the center of the universe that they helped create: The Brooklyn Bowl. Wolf! opens up.  
UPDATE [2/23]: I never did book a flight, but (woo-hoo) the show will be webcast via nugs.tv, only $9.99 for Standard Definition, $14.99 for HD.  Pre-order available now.
Friend of TV Aaron Stein (@neddyo) has had a hand in these Freaks Ball events since the beginning and they've always delivered (four years ago saw the birth of JRAD, so there's that).
Neddy is suitably excited for this run and thus unleased some uncirculated recordings on the world.
Check out 5/23/02 from Tap Bar...
and 1/23/04 from Tribeca Rock Club featuring Wayne Krantz on guitar and a some dude named Mike Gordon on keys.