Pearl Jam Honors Prince and Jake Arrieta at South Carolina Show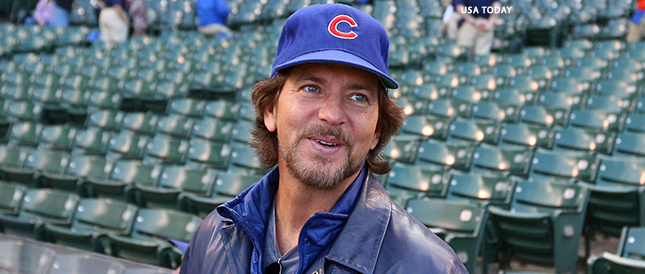 While musicians -- and truly everyone -- worldwide were honoring Prince and his career after he passed away tragically yesterday, there was another news story that had grabbed the attention of us Chicagoans, and baseball fans everywhere.
Jake Arrieta, of the Chicago Cubs tossed his second no-hitter in 11 regular season starts as a part of a 16-0 drubbing of the Cincinnati Reds.
Neither story was lost on Eddie Vedder, who performed with Pearl Jam in South Carolina as the no-no was happening.
Blogger Tyler Jones was in the crowd, with spotty cell coverage, and described how it went down.
About mid-way through the concert last night, Vedder pointed out a woman in the front row holding up a Cubs sign and said something along the lines of "this is the year." There were admittedly some groans and boos as Columbia, SC is smack-dab in the middle of Braves country. But there were also some loud cheers, partly from yours truly. But then Vedder mentioned he needed to get an update on the score of the Cubs game against the Reds. They played another song before Vedder walked up to the mic and told the crowd that his wife just told him that the Cubs were up 13-0. This was awesome for me, just because I couldn't get the score on my phone. But I had no idea we were looking at a no-hitter.

Right after a roller coaster version of "Alive," Vedder revealed to the crowd that Jake Arrieta had completed a no-hitter – and he didn't hide his excitement. Immediately following the next song two fans threw Cubs jerseys on stage and Vedder placed them – logo facing the crowd – on his front monitor. And for the final song of the show, "Yellow Ledbetter," there were two Cubs jerseys at the front of the Pearl Jam stage as we celebrated a great concert and another historic performance by Jake Arrieta.
Here's video of Vedder shouting "ARRIETA" into the mic at the conclusion of a "Purple Rain"-esque jam that emerged out of "Yellow Ledbetter" (about 2:20 into it).  He had previous mentioned how much Prince had meant to him earlier in the show prior to performing "Light Years".
Go Cubs!