Poster / Setlists: Phil Lesh & Friends @ Tower Theater, Upper Darby, PA 11/11, 11/12 & 11/13, 2013
And so begins the final run of Phil's last tour with his friends in quite some time (ever).  As with the previous two stops on this quick Northeastern jaunt, the run's poster gives clues into the themes, one of which is a carry over from the New York City run.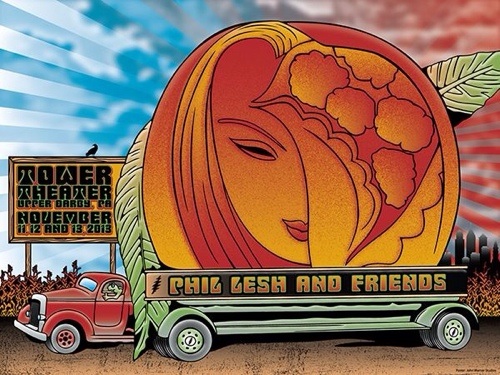 Perhaps a bit more obvious than the Capitol Theater or Best Buy posters, but no less exciting.
Hold on to your hats Allman Brothers fans, and we just might see that Layla left of the NYC setlists yet.
Keep it here for setlists and media from this run.
Phil Lesh and Friends
Tower Theatre
Upper Darby, Pennsylvania
Phil Lesh - bass, vocals
Anders Osborne - guitars, vocals
Luther Dickinson - guitars, vocals
Grahame Lesh - guitars, vocals
Jason Crosby - keys
Tony Leone - drums
Monday, November 11th, 2013 
Set One (8:24pm - ?pm):
Bertha > Deal, Birdsong, Simple Man, I Shot the Sheriff, Rollin and Tumblin, Gimme Shelter

Set Two (10:08 - 12am...I think):
Playing (GL, complete) > Jam > Little Wing (LD) > Cold Rain and Snow (PL), Down By The River (AO), It's Too Late (LD) > Death Don't Have No Mercy, The Wheel, St Stephen (PL, GL)> Layla

Encore: Thorn Tree In The Garden

via philzone.org

Tuesday, November 12, 2013
Set One
China Cat Sunflower> Sittin On Top Of The World, Brown Eyed Women, Ramble On Rose, Comes A Time, Burning On The Inside, Not Fade Away

Set Two
Viola Lee Blues > Les Brers In A Minor > Unbroken Chain, Melissa, Scarlet Begonias> Fire On The Mountain, The Other One> Mountain Jam

Donor Rap

Encore
Goin Down The Road Feelin Bad

Wednesday, November 13, 2013
Set One
Truckin', This Wheel's On Fire, All Along The Watchtower, New Speedway Boogie, Heart of Gold,  Caution, Mason's Children

Set Two
Shakedown Street, Mean Old World, Stand Back, I Know You Rider, Eyes Of The World, Uncle John's Band, Cumberland Blues, Blue Sky, Lovelight

Encore
Dark Star, Little Martha
Also, enjoy this surprise Phil Lesh trio set (featuring Eric Krasno & Joe Russo) from Central Park on Saturday, November 9th.