Railroad Earth Plays A Pair Of Illinois Shows (Vic + Castle Theaters) on Winter 2013 Tour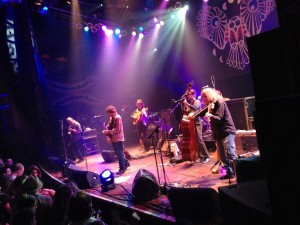 January can be a pretty cruel month for the Chicago music scene, but at least for the last few years, we can reliably count on
Railroad Earth
 to swing through during the winter .
The last two Januarys found the band settling in at House Of Blues.  The 2012 gig came during a busy weekend of Bluegrass and Americana music in Chicago, while 2013 was a showcase for some key covers in addition to some nice jams on the band's original material.
Something must have gone right at those last couple of shows as RRE has moved up to Lakeview's Vic Theater for their 2014 visit, also coming during January... a big Saturday night show on the 11th.  This should be a nice change of pace for fans -- providing a much different show environment in a slightly larger room.
Illinois fans that will have to miss the Saturday night blowout do have another chance.  The band completes a four show long weekend run the next night at The Castle Theater in Bloomington, a short drive down I-55 from Chicago.  Tickets are available now through RRE ticketing.  Full tour dates are below.
NOV 29 Sherman Theater Stroudsburg, PA
NOV 29 - NOV 30 Sherman Theater Stroudsburg, PA
NOV 30 Sherman Theater Stroudsburg, PA
DEC 07 The Space Westbury, NY
DEC 29 Orange Peel Asheville, NC
DEC 30 Orange Peel Asheville, NC
DEC 31 Orange Peel Asheville, NC
JAN 09 Pabst Theater Milwaukee, WI
JAN 10 First Avenue Minneapolis, MN
JAN 11 Vic Theatre Chicago, IL
JAN 12 Castle Theatre Bloomington, IL
JAN 15 Wooly's Des Moines, IA
JAN 16 Bourbon Theatre Lincoln, NE
JAN 17 Fillmore Auditorium (Denver, CO) Denver, CO
JAN 18 Fillmore Auditorium (Denver, CO) Denver, CO
JAN 21 George's Majestic Lounge Fayetteville, AR
JAN 22 Cain's Ballroom Tulsa, OK
JAN 23 Blue Note Columbia , MO
JAN 24 Granada Lawrence, KS
JAN 25 The Pageant St. Louis, MO
FEB 06 The National Richmond, VA
FEB 07 - FEB 08 9:30 Club Washington, DC
FEB 08 9:30 Club Washington, DC
FEB 12 The Town Ballroom Buffalo, NY
FEB 14 Union Transfer Philadelphia, PA
FEB 15 Union Transfer Philadelphia, PA
FEB 20 Higher Ground Ballroom South Burlington, VT
FEB 21 House Of Blues - Boston Boston, MA
FEB 22 Best Buy Theater New York, NY