Review / Setlist | Jim James @ The Vic 11/26/16
Words: Alex Wood | Photo: @coreyskatz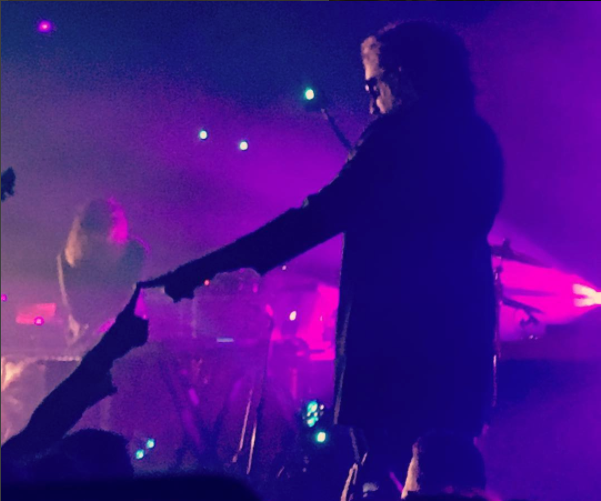 Jim James performed at The Vic Theater on a tour promoting his excellent new solo album, Eternally Even. Not surprisingly, the show heavily featured the songwriter's new material, with all but two songs from the new album performed.
But unlike My Morning Jacket's guitar-forward classic rock style, James' material leaned on keyboards, effects and electronics, creating a textured density that still absolutely rocked, as fans would expect.
The show began with Eternally Even opener "Hide In Plain Set," utilizing an extended guitar freakout over long droning keyboards, immediately establishing the trippy, otherworldly tone of the set. "Know Til Now," from James' first solo release, matched the tone perfectly, adding a dance beat to the mix.
"Same Old Lie" and "Dear One" paired equally well, the latter featuring an extended drum solo between verses.
Throughout, James would move constantly around the stage, either singing, playing a guitar attached to a stand in front of the microphone, or using a variety of synthesizers and keyboards behind. A four-piece band behind him helped augment each song, giving the singer freedom to do as he wished.
"A New Life," a staple for James' solo shows, featured a celebratory finale. The Velvet Underground's "I'm Set Free" offered a welcome variety, the song transformed into a a keyboard-heavy rendition, sounding more like Roxy Music than Lou Reed.
Jim James maintained his massive, enigmatic persona throughout, wearing sunglasses as he paced the stage, occasionally reaching into the crowd to touch audience members' fingers.
The combination of both "We Ain't Getting Younger" sections performed simultaneously proved to be a highlight, with Part One reaching My Morning Jacket heights of groove-forward guitar rock before James finshed the set with album closer "Eternally Even."
Yet even after the lengthy, 13 song set, James was just getting started.
The encore began with James walking back on stage alone, performing an extremely emotional cover of the recently deceased Leonard Cohen's "Suzanne" entirely a capella. Coming from one of the most powerful voices in rock music, the tribute was extremely moving.
"Of The Mother Again" was performed with swagger, before Monsters Of Folk's "Dear God" took the band to new heights, again transforming the original to a more groove-oriented, smoother sound.
"Down On The Bottom," initially recorded for The New Basement Tapes project, proved to be a perfect encore song, it's loud, bombastic style matched by James' vocal range.
At this point, "State Of The Art" felt like a bonus, the setlist already overwhelming for any fan. The Regions Of Light track plays like a strange sing-along, and a blend of every style offered throughout the night.
As one would expect from the My Morning Jacket frontman, the show was pure rock 'n roll, and the songs transformed to new heights far beyond the studio tracks' limits.
Read the setlist below.
Setlist:
1. Hide In Plain Sight
2. Know Til Now
3. Same Old Lie
4. Dear One
5. A New Life
6. The World's Smiling Now
7. True Nature
8. I'm Set Free (The Velvet Underground cover)
9. In The Moment
10. Here In Spirit
11. We Ain't Getting Any Younger Pt. 1
12. We Ain't Getting Any Younger Pt. 2
13. Eternally Even
Encore:
14. Suzanne (Leonard Cohen)
15. Of The Mother Again
16. Dear God (Sincerely M.O.F.) (Monsters Of Folk)
17. Down On The Bottom (The New Basement Tapes)
18. State Of The Art (A.E.I.O.U.)