Roger Waters OKs Plans To Fly Pigs In Front Of Trump Tower This Summer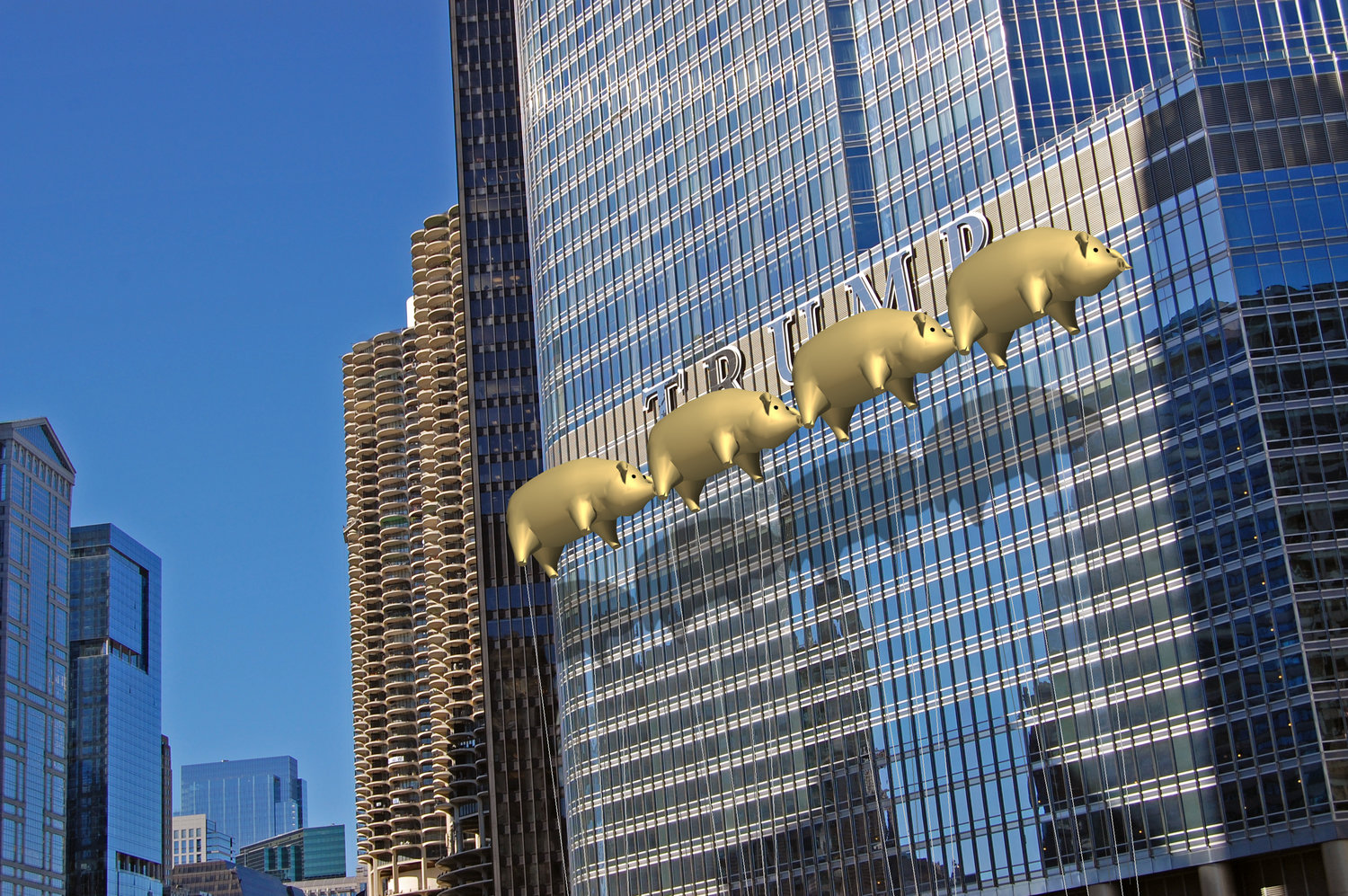 When an architect first proposed to fly Pink Floyd's famous Battersea flying pigs in front of Trump Tower in November as a blunt political statement, there were a number of hurdles to jump.
Namely, Roger Waters himself would need to sign off on the project, for reasons of reappropriation, as he owns the creative rights to the image.
Yet Waters has been politically active lately, incorporating anti-Trump messages into live performances and basing much of his upcoming record, Is This The Life We Really Want, on the recent election.
Thus, it should come as no surprise that Waters happily signed off on the project, which is now set to appear downtown for one day this summer.
Designer Jeffrey Roberts intends to fly four gold-colored pigs directly in front of the giant "Trump" sign, obscuring the president's last name to commuters walking in the area.
Titled "Flying Pigs On Parade," each pig will measure 30-feet by 15-feet and be attached to a barge on the Chicago River. Though the pigs will only appear in Chicago for one day, Roberts intends to travel with them to other cities as well.
"'Flying Pigs On Parade' is a visual response to the loud, illogical and frequently hateful expressions that polluted the presidential elections and that now define the actions of our U.S. leadership," the project's website explains.
"The art folly has been created to provide visual relief to the citizens of Chicago by interrupting the view of the ostentatious Trump Tower Chicago sign," Roberts said. "The design follows rigorous rationale in providing layers of meaning but ultimately allows for interpretation by individual viewers."
The project is currently seeking funding through its website.
Meanwhile, Roger Waters recently released the first single from his upcoming album.
Titled "Déjà Vu," the delicate song is extremely political, as one could expect, but finds Waters in great shape, musically and creatively.
     "If I were a drone patrolling foreign skies
     With my electronic eyes for guidance and the element of surprise
     I would be afraid to find someone home / Maybe a woman at a stove
     Baking bread, making rice, or just boiling down some bones"
Listen to the song below.