Setlist, Stream, Download: Bob Weir, The Roots & Friends @ Headcount Benefit, Capitol Theater, Port Chester, NY 9/7/12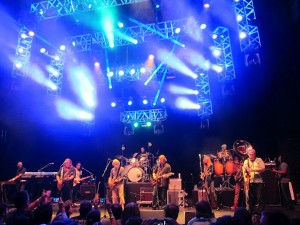 The Barn is a Chicago-based music blog, and we're 100% committed to providing a chance to hear best stuff from the Chicago area again on our site.  But events like this happen only rarely -- in Chicago or anywhere -- so I wanted to get it out there so folks can easily have a listen and load up on their iPods.
The night starts off with a rare solo and acoustic set from Bob Weir, who seizes the moment and offers both interesting versions of Weir staples -- "Music Never Stopped" and "Easy To Slip" were standouts -- and beloved Garcia material.  Warren Haynes and Grace Potter join for Potter's first ever performance of tunes from the Grateful Dead songbook (seemed like a pro) at the end of the set before an unexpected and joyous version of  "Jailhouse Rock".  Stones sax-man Bobby Keys joined in for "Bird Song" and "Jailhouse" and stuck around for a tweener set, which included a run-down of the Jagger-Richards ballad "Wild Horses".
For jam fans, The Roots take the prize for hip-hop group most likely to crossover and its clear from this set why.  Funky rhythms and filthy playing all around -- I'd like to see them on more festival bills by next summer.  But the real coup here is the encore jam: Phish guitarist Trey Anastasio leads the band through two Phish classics and a run through of "Pigtail" from his forthcoming release Traveler.  Then, the ghosts of the Capitol are all channeled for a closing trio of tunes that make ample use of all the night's talent.
Awesome.
The Stream
Download Entire Show (.zip mp3)
Full Setlist (via Hidden Track)
Set 1 (Bob Weir, solo acoustic): The Music Never Stopped -> Me & My Uncle -> Friend of the Devil, Loose Lucy, Lost Sailor -> Saint of Circumstance, Peggy-O, Easy to Slip -> Dear Prudence, Bird Song*, Jack Straw**, Jailhouse Rock*

Warren Haynes and Grace Potter: Wild Horses, Gold Dust Woman

Set 2 (The Roots): Paul Revere, Proceed, The Fire, Quills, Swept Away, Next Movement, Dynamite, Mellow My Man, Break You Off, You Got Me, Get Busy, Thought @ Work, How I Got Over

Encore (All Star Jam): First Tube^, Bathtub Gin^, Pigtail&, Dancing in the Street@, Thrill is Gone@, Whipping Post@

*w/ Warren Haynes, Grace Potter, and Bobby Keys
** w/ Warren Haynes and Grace Potter
^ The Roots with Trey Anastasio
& The Roots, Trey Anastasio, and Grace Potter
@ The Roots, Trey Anastasio, Grace Potter, Bob Weir, Warren Haynes, and Bobby Keys