Setlist / Video / Recap | Gene Ween @ Concord Music Hall, 7/2/15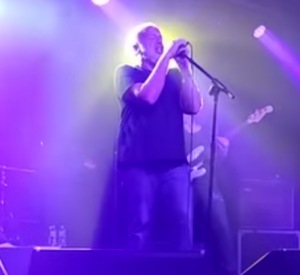 Since Ween's breakup in 2012, frontman Aaron Freeman (better known as Gene Ween) has jumped from project to project, rarely sticking with a band or concept for long.
First came Marvelous Clouds, released under the name Aaron Freeman, a collection of cover songs written by poet Rod McKuen. Then came Freeman, a full-band studio album released as Freeman. Now, Gener's back to using his Gene Ween moniker, performing songs from his solo works as well as Ween tracks.
Gene Ween played Concord Music Hall on Thursday and delivered a set packed with Ween favorites, occasionally sprinkling in Freeman material throughout.
Opening with relative obscurities "Doctor Rock" and "The Golden Eel," the audience certainly knew a solid set was ahead of them. The band consisted of guitars, keyboard, bass and drums, Gene sticking solely to vocal duties.
Though "Black Bush" and "Golden Monkey" from Freeman followed shortly after, more Ween obscurities came soon after with "She Wanted To Leave" and "Springtheme."
Though fan favorites "Freedom of '76," "The Mollusk" and "The H.I.V." song were performed, a highlight of the setlist was "So Long, Jerry," a B-side from 12 Golden Country Greats written following the death of Jerry Garcia, an obvious nod to Grateful Dead's Fare Thee Well run beginning the following night.
"So long, I'll see you down that long dark river Floating on that lining in the sky I'm lucky, lucky enough to have heard you play your song So long, Jerry, So long"  
The set closed with Freeman's epic "(For A While) I Couldn't Play My Guitar Like A Man," followed by an encore of Ween classics "Voodoo Lady" and "The Grobe."
Read the setlist and watch a video of Gener and his band performing "So Long Jerry", "Beacon Light", "Spring Theme" and "Johnny On The Spot", as well as audio from the Mariachi El Bronx opening set  from videographer madpicken.
Setlist:
1. Doctor Rock
2. The Golden Eel
3. Spinal Meningitis
4. Black Bush
5. Golden Monkey
6. She Wanted To Leave
7. Springtheme
8. Johnny On The Spot
9. Freedom of '76
10. The Mollusk
11. El Shaddai
12. Right To The Ways And The Rules Of The World
13. So Long, Jerry
14. Beacon Light
15. The H.I.V. Song
16. Delicate Green
17. I Can't Put My Finger On It
18. (For A While) I Couldn't Play My Guitar Like A Man
Encore:
19. Voodoo Lady
20. The Grobe