Setlist, Full Show Audio Stream & Download | Wilco @ The Riv 12/8/14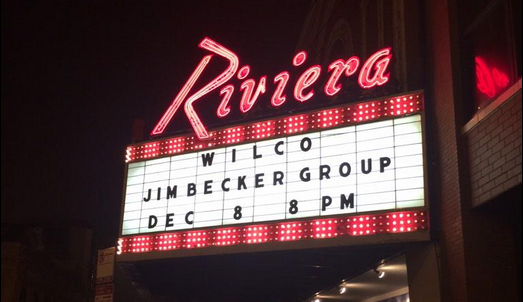 Night three is in the books and the all out assault on the catalog continues, with minimal repeats so far over the run.
The Total Pros horn section, veterans of previous Riviera residencies, also make their first appearance for a handful of songs and the entire first encore. The crowd also was treated to alternate arrangements of "Box Full Of Letters" and "Spiders (Kidsmoke)".
Be sure to check out FM sourced audio from night two of the run HERE.
The Stream
[box type="download"]Download Entire Set (mp3 .zip)[/box]
Audio via cosmickc
Here's the complete setlist (via viachicago.org)
Wilco (the song)
Company In My Back
Hell Is Chrome
War On War
Pot Kettle Black
Sunken Treasure (Jeff on electric)
No More Poetry (Jeff solo acoustic)
Cars Can't Escape
Pieholden Suite (w/Total Pros horns)
Misunderstood>
Someday Soon
Summer Teeth
It's Just That Simple
You And I
Someday, Some Morning, Sometime>
Laminated Cat (aka Not For The Season)
Airline To Heaven
Feed Of Man
Box Full Of Letters (waltz arrangement)
Passenger Side
Walken (w/Total Pros)
I'm The Man Who Loves You (w/Total Pros)
Spiders (Kidsmoke) (electric arrangement)
--------------------------------------
You Never Know (w/Total Pros)
Can't Stand It (w/Total Pros)
Monday (w/Total Pros)
---------------------------------------
Too Far Apart*
New Madrid*
Dawned On Me*
Dreamer In My Dreams*
* — performed hootenanny style with Jeff and John on acoustic guitars, Nels on dobro, Glenn on percussion, Mikael on melodica and Pat on banjo