Stream or Download: One Of The Earliest Known Wilco Shows 11/23/94 @ Lounge Ax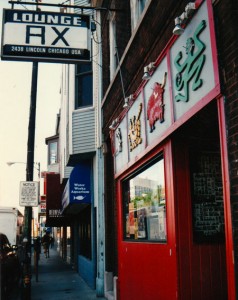 We're reaching back all the way to the very beginning for this very early Wilco recording. There is some debate as to wheter this is the band's third ever show, or possibly maybe sixth or seventh. One thing is for sure, having a recording that sounds this good from so early in the band's history is incredibly fortunate, especially as a document from this landmark (now defunct) venue, where Jeff Tweedy famously courted his wife, Sue Miller, who owned the club.
Still falling squarely into the alt-country pastiche during this early stage, there is little evidence that suggest the more experimental  force that they will soon become, though Tweedy's already mature songwriting sensibility and some fine playing all around does clue the perceptive listener that Wilco is indeed something special. Without even a released album under their belts, they still manage to devote a good hour and forty five minutes to originals (many of the tracks will surface on A.M. the following spring) and covers, even finding some inspiration in the Uncle Tupelo and Golden Smog catalogs.
 The Stream