Surround Yourself With Music: Getting To Know Jim Boukas
Dedication.  Hard work. Vision.  Networking.  All words often associated with success in business, but they equally apply to the way that Jim Boukas has built up a Chicagoland jamband empire of sorts over the last seven years.  By constantly tweaking the formula, breaking new ground, trying his hand at new things and fostering relationships with like minded musicians of all stripes, Boukas has found his way into several exciting projects that delve into the beloved catalogs of many of our favorite bands.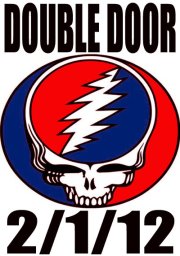 A new chapter unfolds for his longtime Grateful Dead band Paradise Waits as it makes a move to Double Door for a new Wednesday night residency on February 1st.  After previously holding court at various venues around the city (most recently Abbey Pub), the band could offer a clinic on how to cultivate a connection amongst the folks that come out to see them regularly.  While it's no surprise that Chicago Deadheads have found a place to congregate over live versions of their favorite tunes, Paradise Waits has definitely found the right mix of community, repertoire and music, bolstered by an all-star lineup of musicians that at times includes Mr. Blotto's Mark Hague.
With the change of scenery to the legendary Double Door comes some deliberate changes to the approach as well.  For the first time, Paradise Waits will feature a two drummer approach (with the addition of Tony Dellumo of Chester Brown, formerly of Mr. Blotto).  For nine-to-fivers that could only sparingly indulge in late night sets from Paradise Waits in the past, shows will start early, at around 7:30, but still pack a good 3 hours of music.  Not enough? Each show will be followed by an after party in the Double Door Dirtroom.  Boukas explains one more twist, "we'll begin to revisit complete setlists from not only the Dead, but also Furthur, Jerry Garcia Band, Phil Lesh & Friends and some other surprises, too."
Listen: A Paradise Waits Wednesday Show From The Abbey
All of this would be exciting enough, but Boukas is following his muse into other realms as well -- seeking to own the "extended weekend" for fans of the big jambands in and around Chicago.  "I've been stretching my legs with some other musical outlets," he tells The Barn.  The version of his Phish project, The Vasoconstrictors, which recently convened for the first shows of a Thursday night residency at Lilly's in Lincoln Park, looks vastly different that the band that helped celebrate The Barn's second anniversary at Brixie's last November.  "We took a break over the last few months to regroup and tweak the line-up a bit. Vaso 2.0 is going to offer a little more versatility with vocal harmonies and song selection, all the while keeping the original mantra of 'focus on the jam'."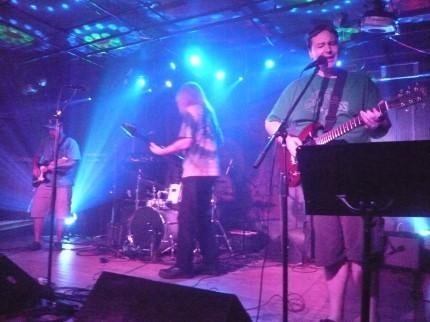 In this incarnation, Boukas is joined by Joe Re of The Coop on keys as well as two members of the popular Chicago jamband Family Groove Company -- Matthias Blanck on drums and versatile bassist Janis Wallin.  Robin Eatman plays lead guitar.  He continues, "It continues to be a great creative outlet for me and offers the challenge to write rhythm guitar parts for songs like Stash, Foam, and You Enjoy Myself."
Listen: Vasoconstrictors @ Lilly's 1/14/12
"More recently I've started to dive into Bluegrass music, dusting off my acoustic guitar and collaborating with guitar virtuoso Eric Lambert [formerly of Sexfist/Henhouse Prowlers].  We became fast friends and started a 'First Thursdays' residency at Martyr's, which will also be an early show (6-8pm), and feature many Chicago musicians," Boukas explains.  The first gig started like a Rowan/Rice style flat-picking/vocal duo but evolved to encompass a set of high-octane covers that draw from the extended classic rock and jam canon.  Playing host to a number of guests titled the dynamics of the performance by the end of the evening, finding ample room in many of the tunes to stretch out -- which brings us to yet another Boukas project…
Listen: Boukas, Lambert & Friends @ Martyr's 1/6/12
"Eric and I have also teamed up with Wavy Dave (Cornmeal) and Thad Landis (The Dog Patch Ramblers) and put together a pretty sweet bluegrass jamband that I'm real excited about," Boukas continues.  The first gig was at The Alley in Highwood on January 14, and really hit that sweet spot of rock-tinged bluegrass music, recalling the jammy acoustic sets from String Cheese Incident or Yonder Mountain String Band -- the pairing of two version of "Cumberland Blues" back-to-back was a particularly inspired choice.  Though the band has yet to be named (The Dirty Joke Band is one contender), it is clear that anything goes in these sets.  Eleven minute, bluegrass "Shakedown Street" anyone?  Boukas is definitely pumped about how it's coming together: "Many songs feature some of the best four-part harmonies I've ever been a part of. Some really obscure song choices too that we've bluegrassed up and should be a blast."
Listen: The Unnamed Bluegrass Jamband @ The Alley 1/14/12
"On top of all that, I also started my own company called Chicago LIVE which mainly offers PA rental, but also recording, editing, photography, video, and band management.  When I have time," Boukas adds with a snicker, "I also give music lessons for guitar, piano, voice, as well as basic live sound and recording principals."
There's nothing wrong with keeping yourself busy, especially when driven by a passion to perform and share music with those who crave it.  In summary, Boukas is quick to offer a (surprise!) Jerry Garcia quote, "Surround yourself with music!"
We will!