The Many Sides Of Joe Marcinek
If you're a Chicago music fan who just can't get enough of that sweet spot where rock meets jazz, Joe Marcinek is a name that comes up quite a bit.  Not content to be just a double threat -- laying down both guitar and keys in the Indiana-based jazz-fusion quartet Fresh Hops -- he's branched out again and again to take his multi-instrumental talents to other projects as well, a formidable musical menace.  While it's no surprise to see him pop up around Chicago with the ultra-busy Hops, he's equally likely to make contributions to special projects or jams.
Add to all that, the task of fronting his own band, assembled from a rotating roster of the Chicago area's most rock inclined jazz musicians and jazz-inclined rockers.
With a show headlining Chicago's iconic Cubby Bear on Thursday in support of the freshly minted Joe Marcinek Band CD Both Sides, we caught up with Joe to chat about the recording, the show  and the many hats he wears in the larger Chicago scene. We've include three tracks from the CD at the bottom of this post, but for a real taste of what Joe's band is all about, check out this live recording of "60 Degrees" recorded at Harte's last fall (at thirteen minutes... strap yourself in) or better yet, head on down to Cubby Bear on Thursday.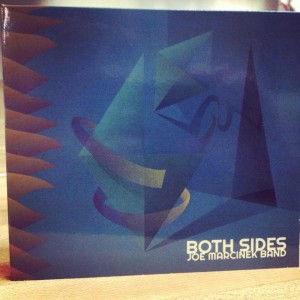 How long have you been working on this CD? Where did you record it?
I started the JMB in the fall of 2011. It started as an opportunity to do more gigs with Pete Koopmans who had just moved back into town.  We recorded at the Alley Recording Company in Valparaiso, Indiana.
Do you want to single out any playing that exceeded your expectations?
What blew me away was Marc Nelson's ability to capture the raw sound of the band. From the moment we got the drums dialed in I knew it was going to be special. He mixed and mastered it too.
Are the players on the record the same that play in your live shows?
The CD band was pretty much the working band save for a few swap outs. Janis Wallin has stepped in lately and really lays it down. On the CD we had Waz on keyboards who plays in an insanely talented group called Freek Johnson. For the show Ashton Kleemann from Eumatik is on keys and brings the heat.
Any Chicago players that you'd really like to get out to jam with your band?
I truly feel like I have an all star band with the musicians that rotate now. I'd like to bring in a big name keyboardist for a run and am in talks for hopefully the fall.
You've played a couple "Dead Jam" gigs with Terrapin Flyer lately. What did you take away from those experiences?
Playing with Terrapin Flyer is an absolute blast. They are the most humble and kind musicians I've shared the stage with. It's nice to switch gears and play some piano with these amazing guys from the Chicago scene while also diving head first into the vast category of the Dead.
What other musical projects are you currently involved in outside of JMB? In what ways are they the same / different than leading your own band?
Fresh Hops is hitting it extremely hard this year as a focused four piece. Our van has some miles already this year with stops all over the Midwest and Colorado in July. A few tunes swim in both bands like "Hyperbole" and "Logic" but always a different feel from band to band. Fresh Hops sound is heavily built around the violin and a few of the songs don't sound the same without it. We are finally starting to break some ground and people enjoy what we're doing.