The Mystery of the Grateful Dead Symphony: Stream and Download
There is something special when the worlds of rock and classical music collide. After months of preparation, the end products are only performed a handful of times, creating something truly unique for the lucky attendees. The Barn will feature a different rock / symphony fusion weekly over the next several weeks in a new feature: Symphony Sunday.
Back in the Symphony Sunday seat again.  When I first started this series, inspired by Bob Weir's First Fusion concert in May, I did some research as to where else the worlds of Grateful Dead and classical music collided.  I came across this Dead Tribute record by the Russian National Orchestra, but members of the Dead had no input into that.  I remember reading long ago that Phil was preparing a symphony featuring themes from many Dead songs, but that just kind of fizzled.
Then I came across the most intriguing thread of all: the idea that Jerry and Company played with the Buffalo Philharmonic Orchestra in 1970.  Sounds plausible, right?  Then why is there such debate over this -- and not typical Deadhead minutiae -- but over whether or not this concert actually took place.
First, the BPO has no official record of the concert.  Second, there is no recording of what was surely a landmark event in the only 5 year career of The Grateful Dead at the moment.   Archive.org user ghostofpig is passionate in his denial of the event, offering a four point dissection of its fiction:
"First, at that time I went to college a few hours from Buffalo. At that time, my fellow heads and I knew about evey date they were playing east of Chicago and did our best to attend them. .... Something of this nature would have caused a major stir in the community.... Not a word. The Dead didn't sneeze without someone knowing and, most likely recording it. Almost every show in 1970 was recorded from the audience. Someone would have nailed this one.

Second: In April, they followed Miles at the Fillmore West. This was written up in Rolling Stone with several quotes from Phil and Jerry about how they would love to broaden their musical horizons and jam with the likes of Davis or, in Lesh's words, a classical orchestra--Philharmonic or modernist.

Third: such a show would have made it into at least one of the post Garcia books--Scully, McNalley, and certainly Lesh's book. There would be local atricles, not alleged recollections.

Fourth, Owsley an/or Lemieux would have acknowledged the concert.  Instead they merely maintain that Owsley was not on tour then and that no tape exists. Surely, they would have taped such an event, even without Owsley. "
However, excellent detective work by Jay Gerland resolved (at least for me) this issue once and for all.  He offers scans and transcripts of local coverage at his site The Black Dog and has done a bit of primary research of his own.  Jay writes...
I have been in touch with Edward Yadzinski, retired Saxophonist from the BPO, he has given me a phone number for Lynn Harbold, retired percussionist from the BPO, who actually joined the Rhythm Devils during their Drums segment of this performance. I have also gathered a few contacts from The Road, the local WNY band that also played this night. If anything, I'm just looking for a recount of what when down that night; how did the bands play, was it magical like you'd imagine the Dead with a full Orchestra? What was the audience like? Was it the orchestra patrons (could you imagine a house full of well-dressed classical music lovers getting their mind blown) or was it overrun by a bunch of hippies? A mixture of both perhaps?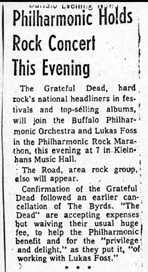 Too bad we don't have that elusive tape.  In lieu of that, enjoy two other orchestral performances featuring members of the Dead.  First is Phil Lesh conducting the Berkeley Symphony Orchestra for Stravinsky's Infernal Dance on 5/11/94.
[mp3j track="Phil Conduct's Stravinsky's Infernal Dance@http://www.archive.org/download/1994-05-11.bso.fm.vernon.19784.sbeok.flacf/phil94-05-11d1t01_vbr.mp3"]
Second is Lesh, Weir, Hart, Welnick and others in a wholly psychedelic adventure conducted by Michael Tilson Thomas at the Davies Symphony Hall in San Francisco on 6/16/96.  The piece is called "Space" for Henry Cowell and gets way, way, way out there.
[mp3j track="Dead Members Space Out at Davies Hall@http://www.archive.org/download/1996-06-16.sfo.aud-fm.vernon.19785.sbeok.flacf/phil96-06-11d1t01_vbr.mp3"]