To Terrapin | A Chat With Old Shoe's Matt Robinson

Planning a race on the eve of the final run of Grateful Dead shows goes a long way to draw in fans of the band -- but adding the right musical entertainment for the post show party, that's the secret sauce.
The organizers of Terrapin 5K seemed to have lucked into finding Old Shoe, one of Chicago's true homegrown bands that can provide an ideal soundtrack for the event.  Their combination of Dead-inspired jams, choice covers and folk-rock will fit right into the lakefront setting and offer the proper cool down for the race and ramp up the long weekend of music and merry-making.
I caught up with Old Shoe's Matt Robinson to get his perspective on performing this event and the madness that will descend upon the city over the holiday weekend.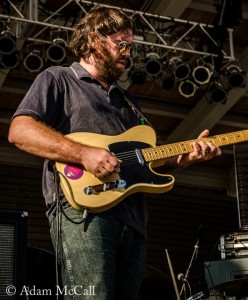 How did you get hooked up with the Terrapin 5k event?
They asked for suggestions on Facebook and I saw a friend tag us.  So, I wrote them to let them know that we covered the whole Terrapin Station album at our festival, and I included a video.  We had a full horn section, a string section, percussion, extra vocals.  I'm not sure if that's what sealed it, but they sent an offer.
Are you a runner?
In junior high and high school, I was a four sport athlete!  I did cross country in junior high since we didn't have football until we got to high school.  I also did track and baseball.
Can you draw any parallels or similarities between training for an athletic event and preparing your music?
As you get older, you have to put yourself in the right spot -- a healthy place -- to be able to do this music thing well.  I've started working out again and it feels pretty good.  You go into a performance with a much clearer feeling.
Doing sports all my life, I learned how hard you can actually work -- you can push your body and mind further than maybe you'd thought previously.  I think that's informed a lot of how hard I've worked on music and worked with others.  Working within the band dynamic, it's kind of like being on a team.
Knowing that you're performing for a large group of people that will likely be exhausted from doing physical activity... any ideas for how to shape the set?
I hadn't thought about what we'd play yet.  It's called the Terrapin 5K so I figured we'd bring some stuff from the album out.
Another cool aspect of The Dead is that they can play some mellow numbers and slow paced songs to good effect.  You go to a festival and you don't hear too much of that -- but The Dead were great at it.  Maybe it's a good opportunity to play a "Brokedown Palace" or "Peggy-O" because the crowd might be a bit worn out.
Stream Old Shoe's Performance of Terrapin Station at 2014 Shoe Fest (via archive.org)
The last couple of years, Mr. Blotto has been featured entertainment at this event... 
I was surprised they weren't doing it again -- they must have had a conflict (ed note: Blotto will be playing a free outdoor show at the Promenade in Bolingbrook on 7/2).  We look up to Blotto.
I've always thought there's a special relationship there and that you guys have been carrying on what they started many years ago in this area.
I think so.  Paul [Bolger]'s like an older brother to me.  They're a wonderful band and to have done it as well as they have as long as they have, that's really cool.
This is not your only gig over the July Fourth Weekend -- the GD mega-festival.
We have an after party on Friday at the Congress Hotel -- a thing called the Grateful Ball.  It sold out really quickly.  The Way Down Wanderers, a group that's moving really quickly are opening up and it should be an awesome night.
What do you think of the fact that this is really taking over the city? All sorts of bands, venues, styles and genres all coming together to celebrate the Grateful Dead?
It's a testament to how amazing the Grateful Dead are.  All these songs are songs that Old Shoe, Mr. Blotto, moe. lots of bands started out playing to bring a certain type of fan closer to them.  The ability to do that for us is a wonderful thing that The Dead allowed us to do.  I think they're the best American band ever and Trey's my favorite guitarist ever.  It's in our hometown.  For me, it can't get any better.  The trifecta!
I can't wait.  I've only got tickets to the Sunday show and that's fine.  I just want to get in there for at least one and I've gotten pretty comfortable having friends over and watching shows from the couch at home.
I catch a lot of Phish shows that way.  No bathroom lines or expensive beers.  I really enjoy it.
Anything else you want readers to know about Old Shoe or Shoe Fest?
Yeah!  We kind of combined the two worlds that we like to draw from:  The Grateful Dead world and the world of folk music and we have David Grisman playing this year.  I just think he's the perfect guy to have out anyways... but with all the Grateful Dead stuff going on this year it's even more fitting.
Old Shoe is writing songs at a very fast pace right now.  We've been able to play a lot of new songs this spring and summer, we're about as happy and healthy as we've ever been and things feel pretty darn good at the moment.
Shoe Fest will take place once again at Camp Shaw-Waw-Nas-See in Manteno, IL.  It features Old Shoe for two nights, David Grisman's Bluegrass Experience, Reverend Payton's Big Damn Band, Cornmeal, Way Down Wanderers and a host of other local and regional bands.