Trey Anastastio Hits Road In Fall, Chicago Theater On 10/19/12 [Fall 2012 Lineup Revealed]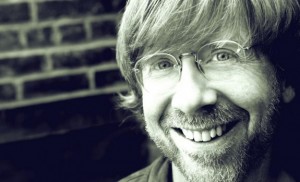 Update 9/20 with band lineup
It certainly seemed like TAB was going to make a habit of hitting Chicago's Riveria Theater in February.  After two wildly successful and stylistically diverse shows in 2010 and 2011, we were let down when a winter tour wasn't routed through here in 2012 -- and even more disappointed when Phish avoided Chicago during this summer's two-legged jaunt.
So it's no surprise that when whispers of a Trey Fall Tour started circulating that Chicago gets some attention.  This time, Trey upgrades from uptown to downtown, settling at the beautiful and historic Chicago Theater for a night of autumn music on Friday, October 19th.
And the change in venue will also likely signal and change in sound as well.  Anastasio will be touring behind his new album Traveler (due to drop a few days prior).  The album was recording with members of indie-rockers The National and Mates of State with the explicit goal of "using the studio as an instrument" and "creating a sonic landscape."
Though the touring band is billed as Trey Anastasio Band, there is no mention of "Classic Tab", which usually signifies the inclusion of Russ Lawton and Tony Markelis, or other staples of the touring ensemble like keyboardist Ray Paczowski, and horn-player/vocalists Jennifer Hartswick and Natalie Cressman.  They may be along for the ride -- but this could be a band assembled with players on the record (or some hybrid).  We anxiously await details.
Update 9/20:  This band resembles the traditional TAB lineup, with Trey bolstered by Cressman, Hartswick, Lawton, Markellis and Paczkowski.  In addition percussionist Cyro Baptista (previously in '02-'04 TAB lineups and Lettuce tenor saxophonist James Casey will be included).  Casey replaces saxman Russell Remington.
If you can't get enough of the jam that night, Yonder Mountain String Band will be playing that night (and the next) at the nearby House of Blues.  Likely other light night options will be abound as well.  Keep visiting The Barn Presents for more information.
TREY ANASTASIO BAND - FALL 2012 DATES

10/18 - The Fillmore, Detroit, MI
10/19 - Chicago Theatre, Chicago, IL
10/20 - LC Pavilion, Columbus, OH
10/22 - Sherman Theater, Stroudsburg, PA
10/23 - The National, Richmond, VA
10/24 - The Fillmore Silver Spring, Silver Spring, MD
10/26 - Beacon Theatre, New York, NY
10/27 - Orpheum Theatre, Boston, MA
10/28 - Capitol Theatre, Port Chester, NY

Tickets for all shows will be available through a real time presale beginning Thursday, August 16th at 10:00 am ET and ending Wednesday, August 22nd, at 5:00 pm ET at http://treytickets.rlc.net. For complete ticketing information or public on sale dates, please visit www.trey.com.