What Made The Wilco Chicago 2011 Run So Special?

Wilco's so-called Incredible Shrinking Tour was stuff of legend before even one note was played.  After 55 shows across North America and Europe this year, the Chicago faithful was salivating for the band's holiday homecoming.  The clever selection and revelation of the venues fueled the eagerness.  And the announcement of support acts and the media hype in the run-up to the shows -- let's just say it seemed like everybody I knew was somehow involved in a mad scramble for tickets.  The word "Wilco" was on everybody's lips.
Gathered together with music fans of all stripes in the Civic Opera House on opening night of the run, I was overcome with how much this band means to the fans of this city-- and soon realized as the band ran through note perfect song after song -- that the affection was mutual.  As the run progressed, even while following at along home, I could see that these were no ordinary shows.  Like the much storied Riviera Residency in 2008, these shows together would reveal a lot about of the state of the band and present a window into all facets of the groups current state of the art.
To test this theory, I decided to compare the five tour closing shows in Chicago to the previous five shows (Val Air Ballroom in Des Moines 12/4, The State Theatre in Minneapolis 12/6&7, The Riverside Theater in Milwaukee 12/9, and The Fillmore Detroit 12/10).  Then using some quick charts, I wanted to show how song selection and diversity helped to foster a unique atmosphere across the run, one that rewarded the loyalty and perseverance of the hometown crowd.
Given the recordings of each of the Chicago performances (see below), I'm sure all ten of these shows were on point musically.  But I do believe that any band committed to the maintenance, rehearsal and performance of a large repertoire -- who values keeping performances fresh for their audience and can rely on quality material written at virtually any point in their career -- creates the kind of events that are most rewarding as a fan.  The Chicago run was the exclamation point on an outstanding year for Wilco and they used every tool in their arsenal to prove it.
Looking forward to a great 2012, starting with the winter West Coast tour in just about a week.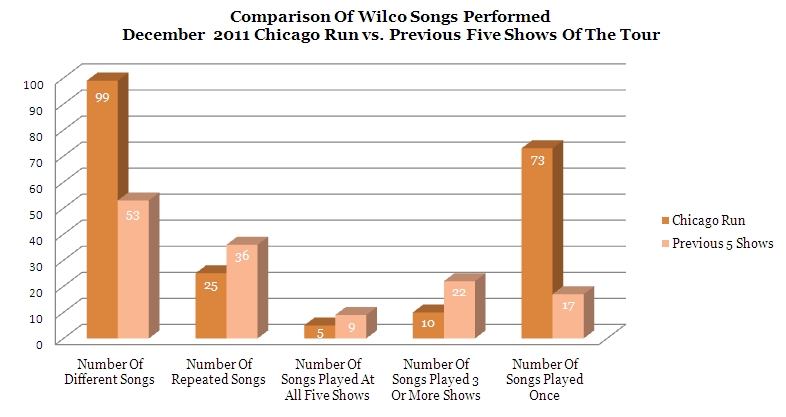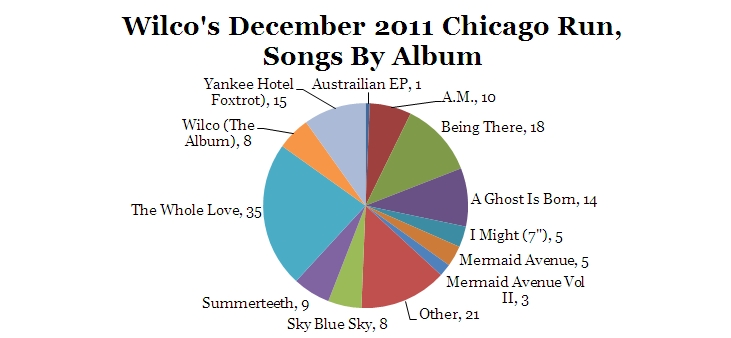 Songs Played At Chicago Run, Not At Previous 5 Shows (50):A Magazine Called Sunset, Airline to Heaven, Ashes of American Flags, At My Window Sad and Lonely, Cars Can't Escape, Casino Queen, Country Disappeared, Dash 7, Dreamer in My Dreams, Either Way, ELT, Handshake Drugs, Hate It Here, Hell is Chrome, Hesitating Beauty, Hoodoo Voodoo, Hotel Arizona, How to Fight Loneliness, In a Future Age, It's Just That Simple, Jesus, Etc., Just a Kid, Kicking Television, Kingpin, Laminated Cat, Muzzle Of Bees, Nothing'severgonnastandinmyway(again), On and On and On, One By One, Open Mind, Remember the Mountain Bed, Reservations, Say You Miss Me, Side with the Seeds, Someday Some Morning Sometime, Spiders (Kidsmoke), Summer Teeth, Sunken Treasure, The Lonely 1, The Weight (The Band), Theologians, Too Far Apart, What Light, When the Roses Bloom Again, Why Would You Wanna Live, Wilco (The Song), Wishful Thinking, You Are My Face, You Are Not Alone, You Never Know
Songs At Previous 5 Shows, Not On Chicago Run (4):Forget the Flowers, Monday, New Madrid, Sky Blue Sky
Links To Setlists & Full Audio Streams / Downloads Of Each Night
Monday, 12/12 Civic Opera House
Tuesday, 12/13 The Riviera
Thursday, 12/15 The Vic
Friday 12/16, The Metro
Sunday 12/18, Lincoln Hall
Total Songs Played (By Number Of Times On Each Run)
| | | | |
| --- | --- | --- | --- |
| Chicago Run | | Previous 5 | |
| Art of Almost | 5 | Art of Almost | 5 |
| Born Alone | 5 | Born Alone | 5 |
| Dawned On Me | 5 | Capitol City | 5 |
| I Might | 5 | Cruel to Be Kind (Nick Lowe) | 5 |
| Whole Love | 5 | Dawned On Me | 5 |
| Capitol City | 4 | Heavy Metal Drummer | 5 |
| One Sunday Morning | 3 | I Might | 5 |
| Rising Red Lung | 3 | Impossible Germany | 5 |
| War On War | 3 | Whole Love | 5 |
| Box Full of Letters | 2 | Hummingbird | 4 |
| Heavy Metal Drummer | 2 | Misunderstood | 4 |
| Hummingbird | 2 | Shot in the Arm | 4 |
| I Am Trying to Break Your Heart | 2 | Black Moon | 3 |
| I Got You (At the End of the Century) | 2 | I Am Trying to Break Your Heart | 3 |
| I Must Be High | 2 | Kamera | 3 |
| I'm Always In Love | 2 | One Sunday Morning | 3 |
| Misunderstood | 2 | Outtasite (Outta Mind) | 3 |
| One Wing | 2 | Poor Places | 3 |
| Open Mind | 2 | Standing O | 3 |
| Outtasite (Outta Mind) | 2 | Via Chicago | 3 |
| Red-Eyed and Blue | 2 | War On War | 3 |
| Shot in the Arm | 2 | At Least That's What You Said | 2 |
| Spiders (Kidsmoke) | 2 | Box Full of Letters | 2 |
| Standing O | 2 | California Stars | 2 |
| A Magazine Called Sunset | 1 | Can't Stand It | 2 |
| Airline to Heaven | 1 | Forget the Flowers | 2 |
| Ashes of American Flags | 1 | I'm A Wheel | 2 |
| At Least That's What You Said | 1 | I'm Always In Love | 2 |
| At My Window Sad and Lonely | 1 | I'm the Man Who Loves You | 2 |
| Black Moon | 1 | Less Than You Think | 2 |
| Bull Black Nova | 1 | Monday | 2 |
| California Stars | 1 | One Wing | 2 |
| Candyfloss | 1 | Radio Cure | 2 |
| Can't Stand It | 1 | Rising Red Lung | 2 |
| Cars Can't Escape | 1 | Someday Soon | 2 |
| Casino Queen | 1 | Bull Black Nova | 1 |
| Company In My Back | 1 | Candyfloss | 1 |
| Country Disappeared | 1 | Company In My Back | 1 |
| Cruel to Be Kind (Nick Lowe) | 1 | Far, Far Away | 1 |
| Dash 7 | 1 | I Got You (At the End of the Century) | 1 |
| Dreamer in My Dreams | 1 | I Must Be High | 1 |
| Either Way | 1 | I'll Fight | 1 |
| ELT | 1 | New Madrid (Uncle Tupelo) | 1 |
| Far, Far Away | 1 | Outta Mind (Outta Sight) | 1 |
| Handshake Drugs | 1 | Passenger Side | 1 |
| Hate It Here | 1 | Pot Kettle Black | 1 |
| Hell is Chrome | 1 | Red-Eyed and Blue | 1 |
| Hesitating Beauty | 1 | Shouldn't Be Ashamed | 1 |
| Hoodoo Voodoo | 1 | Sky Blue Sky | 1 |
| Hotel Arizona | 1 | The Late Greats | 1 |
| How to Fight Loneliness | 1 | Walken | 1 |
| I'll Fight | 1 | You And I | 1 |
| I'm A Wheel | 1 | | |
| I'm the Man Who Loves You | 1 | | |
| Impossible Germany | 1 | | |
| In a Future Age | 1 | | |
| It's Just That Simple | 1 | | |
| Jesus, Etc. | 1 | | |
| Just a Kid | 1 | | |
| Kamera | 1 | | |
| Kicking Television | 1 | | |
| Kingpin | 1 | | |
| Laminated Cat | 1 | | |
| Less Than You Think | 1 | | |
| Muzzle Of Bees | 1 | | |
| Nothing'severgonnastandinmyway(again) | 1 | | |
| On and On and On | 1 | | |
| One By One | 1 | | |
| Outta Mind (Outta Sight) | 1 | | |
| Passenger Side | 1 | | |
| Poor Places | 1 | | |
| Pot Kettle Black | 1 | | |
| Radio Cure | 1 | | |
| Remember the Mountain Bed | 1 | | |
| Reservations | 1 | | |
| Say You Miss Me | 1 | | |
| Shouldn't Be Ashamed | 1 | | |
| Side with the Seeds | 1 | | |
| Someday Some Morning Sometime | 1 | | |
| Someday Soon | 1 | | |
| Summer Teeth | 1 | | |
| Sunken Treasure | 1 | | |
| The Late Greats | 1 | | |
| The Lonely 1 | 1 | | |
| The Weight (The Band) | 1 | | |
| Theologians | 1 | | |
| Too Far Apart | 1 | | |
| Via Chicago | 1 | | |
| Walken | 1 | | |
| What Light | 1 | | |
| When the Roses Bloom Again | 1 | | |
| Why Would You Wanna Live | 1 | | |
| Wilco (The Song) | 1 | | |
| Wishful Thinking | 1 | | |
| You And I | 1 | | |
| You Are My Face | 1 | | |
| You Are Not Alone | 1 | | |
| You Never Know | 1 | | |
Read On For Some Awesome Pro-Shot Videos Of The Run (And Extracurricular activities)

Wilco performs "One Sunday Morning" at Chicago's Civic Opera House on 12-12-2011

Wilco performs "Hell Is Chrome" Live at Chicago's Vic Theatre on 12-15-11

Wilco performs "Sunken Treasure" live at Chicago's Metro on 12-16-2011

Rehearsal with Mavis Staples & Nick Lowe

Jeff Tweedy Does The Weather

More Videos (via WGN)
Dean Richards Interviews Wilco
Wilco's Second Performance

Back to Chicago Run Summary