Recap / Videos / Setlist | Foo Fighters @ Metro 8/4/17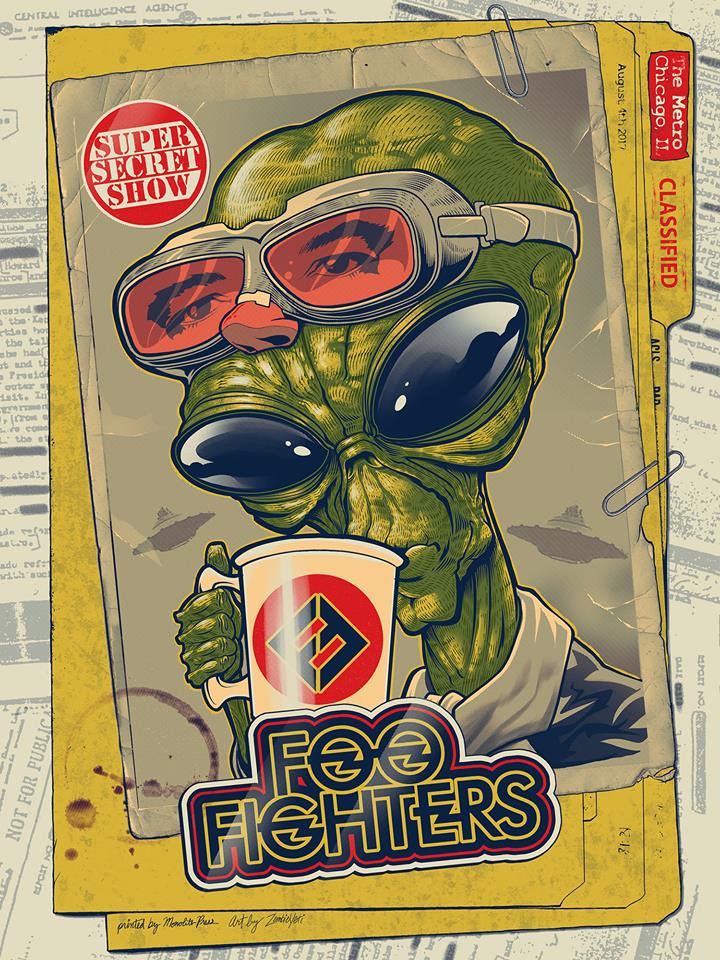 Foo Fighters announced a surprise performance at the Metro a day before the show, using a cryptic message to the hint at the upcoming announcement.
Sure, seeing Foo Fighters in an 1,100 capacity space during Lollapalooza weekend sounds epic, but it's the band's performance that truly did it.
Dave Grohl and his band performed an incredible three-and-a-half hours straight, alerting the crowd that they were hoping to set a record for their longest show ever, given a 4 a.m. curfew.
And the band certainly delivered, mixing classics with new songs and unexpected covers in the 32-song set.
The band opened with a set of older songs, "Aurora," "All My Life" and "Times Like These," with the recently released bombastic rocker "Run" sandwiched in the middle.
The next section of the set included more recent songs, including the brand new "The Sky Is A Neighborhood," 2007's "The Pretender," 2005's "Cold Day In The Sun," and "Something From Nothing," which was featured in the Chicago episode of 2014's Sonic Highways.
The band continued to work through their massive discography until the first cover song emerged 22 songs in, when they welcomed Perry Farrell, Jane's Addiction vocalist and founder of Lollapalooza, for "Mountain Song."
Covers would remain a primary focus of the setlist, with songs from The Rolling Stones, Queen, Faces, Tom Petty and the Heartbreakers, and AC/DC making up the last hour of the set, all leading to closer "Everlong."
Without even performing at Lollapalooza, Foo Fighters used their aftershow to not only prove the number of hits they have written, but to demonstrate their commitment to remaining one of the best, true rock bands around today.
Watch videos from the performance and read the massive setlist below.
"Mountain Song" with Perry Farrell
"Run"
"These Days"
"Dirty Water"
"Rope"
"Sunday Rain"
Setlist:
1. Aurora
2. Run
3. All My life
4. Times Like These
5. White Limo
6. Learn To Fly
7. The Sky Is A Neighborhood
8. Something From Nothing
9. The Pretender
10. Big Me
11. Cold Day In The Sun
12. Congregation
13. La Dee Da
14. Walk
15. These Days
16. My Hero
17. Skin And Bones
18. Dirty Water
19. Rope
20. Arlandria
21. Sunday Rain
22. Mountain Song (Jane's Addiction cover - with Perry Farrell)
23. Monkey Wrench
24. This Is A Call
25. I'll Stick Around
26. Miss You (The Rolling Stones cover)
27. Under Pressure (Queen cover)
28. Stay With Me (Faces cover)
29. Breakdown (Tom Petty cover)
30. Best Of You
31. Let There Be Rock (AC/DC cover)
32. Everlong