Anatomy of a Rumor: Grateful Dead 50th Anniversary Reunion with Trey Anastasio & Bruce Hornsby at Soldier Field - July 3rd, 4th, 5th, 2015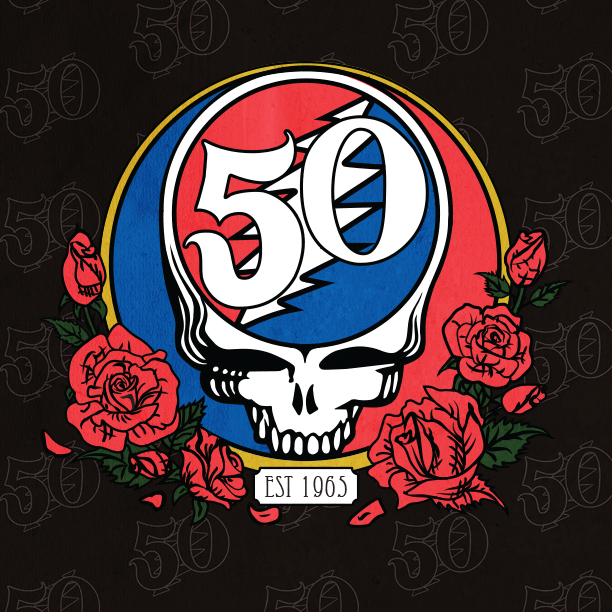 [1/16 Update.  It's On]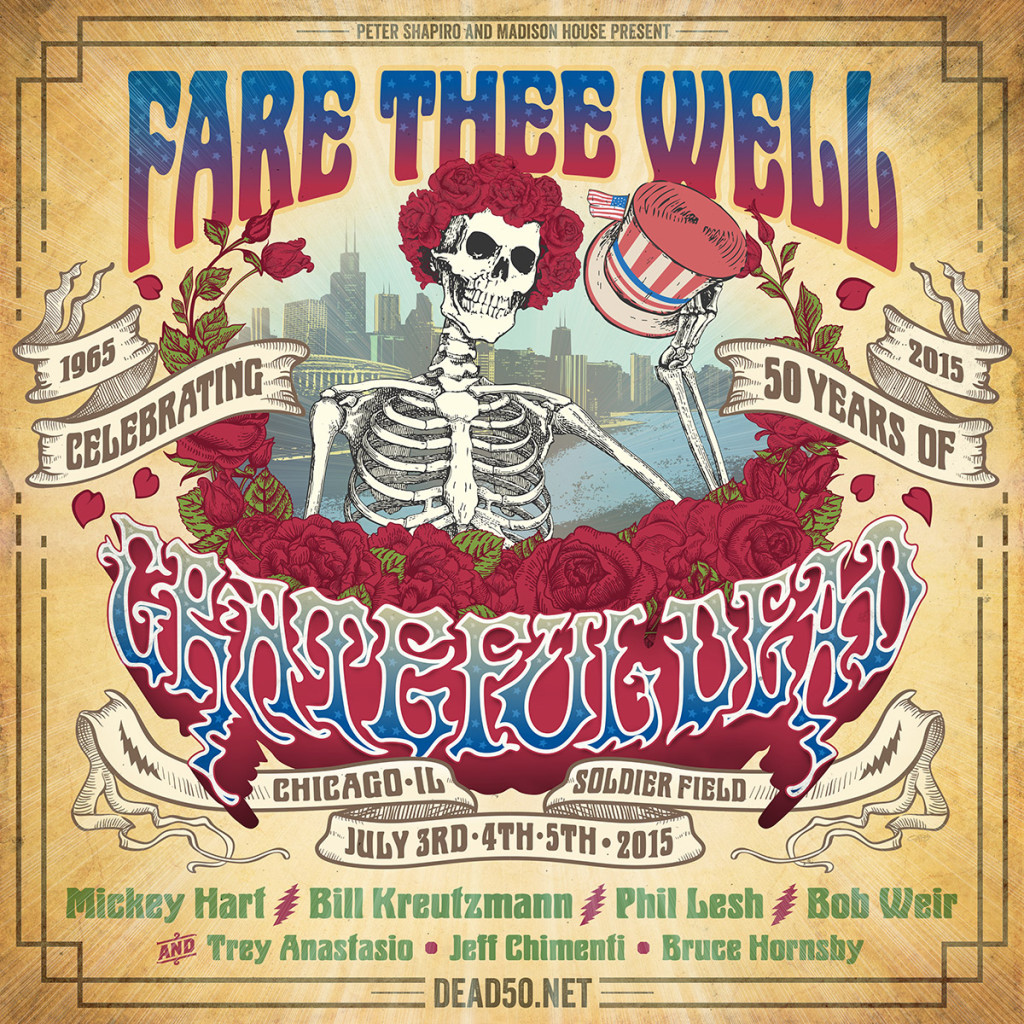 There's been chatter about something -- anything -- to commemorate the 50th anniversary of the Grateful Dead since the 49th anniversary was just a month old. Bob Weir speculated as such in a Rolling Stone magazine interview last January ("we owe it to the songs").
But that was a Furthur break-up, a new Kreutzman band, a Ratdog tour cancellation / Weir health crisis and Phil-exclusivity deal ago. By now, a full scale Rumorgeddon is on pushed and prodded by all sorts of factors and early in 2015, Deadheads are chomping at the bit.
The latest widespread rumor has a distinct Chicago flavor so I thought I'd parse it a bit here to assess its veracity and maybe prime the hype pump just a little bit.  Here's how it goes:
The core four members of Grateful Dead (Lesh, Weir, Kreutzman & Hart) will perform with Trey Anastasio on lead guitar and Bruce Hornsby on keyboards. This reunion will take place over three days, July 3- 5, at Chicago's Soldier Field.
Now let's break it down based on everything we know, or think we know about it.
Source - The first time I saw a rumor suggesting a spectacle style GD reunion for the summer of 2015, was part of this rambling, quioxitic faebook post by Aces Back To Back, an unauthorized biography of the Grateful Dead that includes the post Jerry years in the band's history.
The screed was written up in a strange hype-laden tabloid style, filled with equal parts gossip, speculation, inside-baseball fan speak and just maybe a heaping helping of wishful thinking. The author speculates on a rotating lead guitar lineup, airing out the (very real) sordid histories between Dead members and many of them, and drops the big bomb of a potential co-headlining stop with Phish.   Hmmmm.
But there was one touch that made it come off at just a bit more than just a wild fantasy. The whole thing was supposed to go down at Lockn'.  For those unaware, Lockn' is in its third year as a major camping jamband festival in Virginia -- but more importantly, it's Peter Shapiro's festival. If anybody could pull of a booking coup like this, it would have to be Shapiro, who has built a career on arranging the unexpectedly delightful.  He also inked the aforementioned exclusivity deal with Phil Lesh, pinning him down for only his venues / events for all of the 2014.
But it's 2015 now, and more recently, the rumor resurfaced on phantasytour.com, specifically adding the Chicago, Trey and Hornsby details. It was regurgitated in the Aces Back To Back facebook feed and other amongst other groups and social outlets over the past few days.
Now phantasytour.com is renown as a cesspool and backwater -- ripe with bullshit, hate speech, in-jokes and trolling.  But part of what makes it a haven for that behaviour -- its almost complete anonymity and high traffic -- make it ripe for being a great source of no-strings attached insider information.  Because users can easily protect sources, it can be a place to share some surprisingly reliable information.
City - So where did this Chicago thing come from? The last time all of the Core Four set aside differences to come together as one, it was part of the Terrapin Station event at Alpine Valley in August of 2002. My guess is that the justification now, is they same as it was then:  Find a spot in the middle of the country, within reasonable driving distance for many and major airports., that also serves as a place to draw from a large contingent of local Deadheads.
Chicago certainly fits the bill.  And with so much Grateful Dead activity concentrated on coasts, at the very least this rumor provides a wink and a nod to "flyover states" who haven't even seen Phil Lesh in a few years.
My first thought of Chicago on 7/3, however, gave me reason to pause.  July 3rd has traditionally been the very definition of shit show -- with  moving 100s of thousands of people heading to the lakefront to see fireworks. But Mayor Emanuel has discontinued this long standing tradition and has offered nothing to replace it. The city hosts big events for in Grant Park many weekends of the year, but with a big open space on the calendar... could there actually be an opening here?
Venue - Holy crap... a football stadium?
Sure, there are reasons that Soldier Field makes perfect sense. There are strong psychic ties to the Grateful Dead including, of course, the final two shows with Jerry in 1995. It's location is ideal for out-of-towners, essentially adjacent to the "heart of town", and offering plenty of lodging, dining and site-seeing options for those visiting.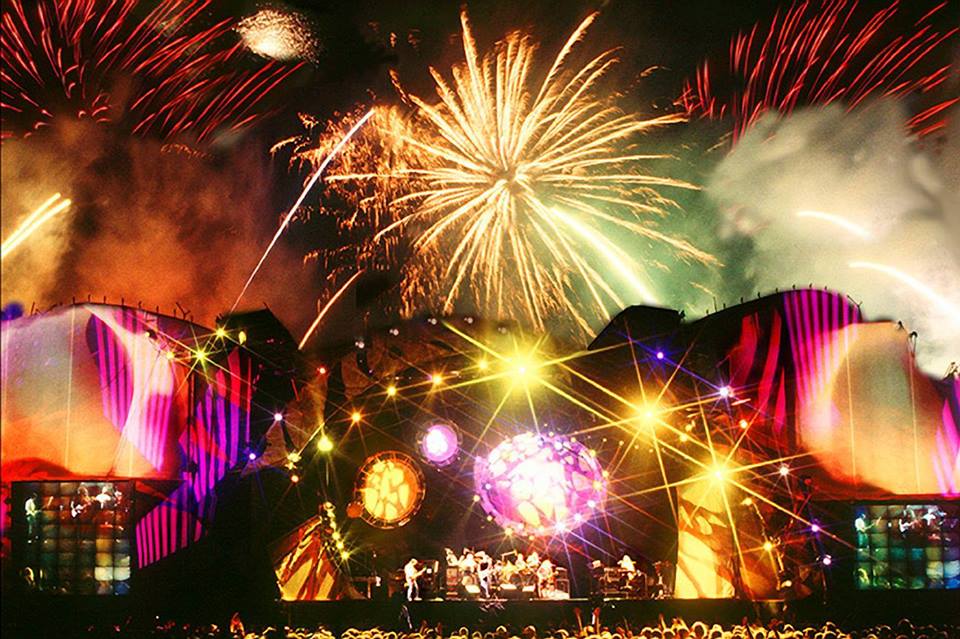 But three nights? That seems like a streeeetch. I don't even think that the GD ever played three nights in the big house. And let's face it: Furthur wasn't even a shed act. Mickey and Billy play clubs. The Dead struggled to fill arenas on their 2009 tour.
Personnel - If indeed this going to take place in a stadium, it makes perfect sense to round out the bill with some names that may be a draw on their own . Hornsby isn't a "pack-em-in" type but certainly has some cache with both Deadheads and the merely curious.  Now Trey, he could move a few thousand tickets on his own.  Maybe.
Still, I have trouble believing that between what this crew can draw on their own and the additional firepower will take us up to the 60,000 available tickets.  The ugly truth: nobody fills football stadiums these days except for pop or the occasional country act.  Phish doesn't.  Once stadium acts like U2 or the Stones don't even try anymore.  Last few acts that I know played Soldier Field were Taylor Swift and One Direction.
Nearly every post-Jerry Dead outfit has had some kind of "supplementary" musicians, vocalists, guitarists, keyboards that have taken them out of the six-man band, that provided the lineup for the bulk of 1979 - 1995.  Do we really think that the band will slide back into that mold for this one-off lineup?
And will they just rehearse three shows worth of material?  I assume an event of this magnitude requires a GD-like two setter every night.
So where the hell are all these people going to come from? There's always the possibility of support acts, but you better be talking about some pretty damn big guns, I'm talking about those that can draw 10-20K on their own.  Who would that be?
Cost - So how much would you pay to sit at the back of Soldier Field to see this?
Some rumors have the whole stadium being offered at $100 per ticket. Phil can get $80 for his club shows at Terrapin Crossroads, I can see where this is coming from and, make no mistake, there is an element of this that is a cash grab.
But I would have to imagine some tiered pricing to address the upper decks.  Something in the $40-50 to satisfy the nostalgia mongers and curiousity seekers.  If not, I see a Groupon in the future.
50th Anniversary - In the end, a show like this will succeed or fail based on it's narrative. Let's not kid ourselves. If this thing goes, the promoters are selling scarcity as much as anything.  Come to this event because it's the ONLY ONE OF ITS KIND.
For a band that's been around for 50 years, their target audience 40 - 60 years old. It makes sense to have an event like this in a place (unlike Lockin') that does not require camping, that is built around a holiday weekend and that is not a hassle to travel to.
That said, the 50th anniverary needs to be build up as a THING -- tugging at your nostalgia.  And the band is already starting to do this -- offering special 50th anniversary logos and forums on dead.net, Phil dedicating his P&F gigs to different years of Grateful Dead.
Plus, it gives a window into the whole GD experience for younger fans who have missed the original run (or even The Dead tours). Ahem.  There's not going to be a sixty year anniversary. This is it. Finality.  Probably the last time to see these guys all play together.  If the Stones and Who can build entire tours around these milestones, I think the Grateful Dead can make hay out of the anniversary.
So is it happening?
Fuck if I know.
The Grateful Dead Newsletter was just published yesterday and referenced the anniversary but did not hint at any shows. Dave Matthews Band announced a SPAC run over July 4th holiday, freeing Trey from his recent yearly "obligation" to perform there with Phish at that time.  Phish has hinted at a "lighter" touring schedule this year.  Hell, if it means Phish skips Northerly in favor of a Fall Tour Chicago stop, I'm all in favor of it.  Hornsby's published tour dates end in May.  No Dead members have any published commitments for this time.  Soldier Field has a free calendar.
Whatever happens, I'm sure we'll be covering it here, so stay tuned.