Celebrate 4/20 With Cornmeal and Hot Buttered Rum At The Vic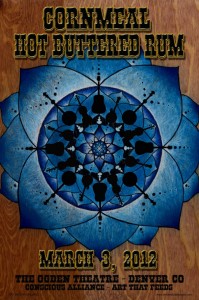 When I first published my list of nine acoustic bands to watch in April of 2010 (recently revised and updated), it included two bands who have subsequently gone on to become brothers (and sister) of the road. With styles that complement each other to a tee, I couldn't be more pleased that the Cornmeal / Hot Buttered Rum co-headlining jaunt, which has legs that cover both coasts, brings these outstanding bluegrass flavored bands to Chicago's storied Vic Theater in April.
Was it coincidence, providence or planning that bring these jammers to the city on the "high" holiday of 4/20?  I venture not to guess (though we know that Cornmeal does like to spend the holidays in their hometown of Chicago).   I will, however, predict that this will be an incredible showcase for fans of progressive bluegrass. Cornmeal has been rolling lately - wringing entirely new sounds out of their traditional instruments and rounding out their shows with deep improvisation. Thanks to Spotify, I've been able to enjoy Hot Buttered Rum's 2011 release Limbs Akimbo, and it at once felt welcome and familiar.  The pairing of "Beneath The Blossoms" and "A Great Many Things" really shows the dynamics of what this band is capable of.
Don't be surprised if you see some collaboration. Here's a vid from a recent co-bill.
Family Groove Company will play an opening set.
If this isn't enough, in a move worthy of festival programmers, Head For The Hills and Infamous Stringdusters co-headline the Double Door the following weekend (4/28).  Chicago newgrass fans rejoice!
Update: Cornmeal and Summer Camp Music Festival are sponsoring an unused, unwanted and unloved cell phone collection at this show.  Items collected will be donated to Special Olympics Illinois Area3/Chicago to be recycled!
Funds from the recycled phones directly benefit the Special Olympics via the purchase of  sporting equipment, uniforms, and more.
Plus, there is something in it for you, too! Donaters will receive one raffle ticket for a chance to win 2 tickets to Summer Camp Music Festival and 2 tickets to the UMBOWL III with Umphrey's McGee at Park West in Chicago on 4/27.