Fitzgerald's American Music Festival 2012 Schedule Grid & Best Bets
There's so much to like about a festival that celebrates the best of American music that has run for 32 (!) years.  The 2012 edition of the American Music Festival at Fitzgerald's in Berwyn combines top notch national acts and homegrown Chicago area favorites in a multi-stage lineup with discounts for those who get out early.  WARNING: the four day festival skips Monday July 2nd... so get some rest (or go to work) and head on back for some holiday fireworks.  The Barn's recommendations are below the schedule.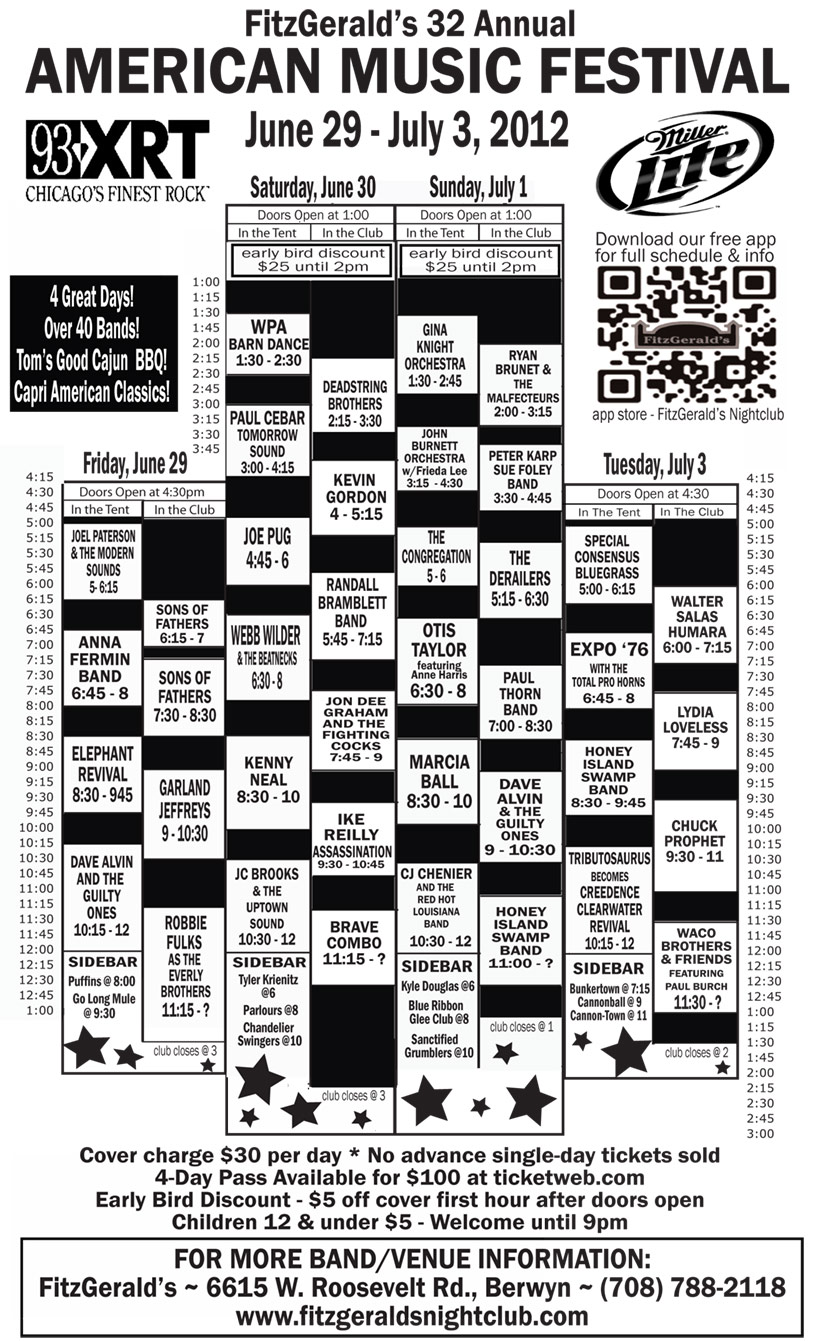 Here are The Barn's Best Bets:
Elephant Revival - The eclectic Colorado folk act is hitting festival circuit hard this summer
Robbie Fulks as the Everly Brothers - Chicago's own chameleonic underground country-folk superstar performs one of his trademark covers sets. Not to be missed.
Deadstring Brothers - if you like early 70's Stones, check out this Michigan band (and if you don't check yourself)
Randall Bramblett Band - frequent Widespread Panic contributor and Sea Level sax player plays a set with his own band
JC Brooks and Uptown Sound - the soul band that could be a Chicago MVP for the first half of the year -- just waiting for them to blow up huge on the national scene
The Congregation - more new-school Chicago soul and R&B; warming up for the big gig the following weekend with Wilco and Andrew Bird at Fifth Third Ballpark
Honey Island Swamp Band - swampy New Orleans rock will get you moving
Tributosaurus Becomes CCR - CCR. Is. American. Music.
Special Consensus - Chicago bluegrass godfathers will kick off the festivities on July 3rd
Cannonball - Oak Park's own roots rockers always gets the party going at Fitzgerald's.  Dylan, Cash and the like will all find slots in their set.  "I Live In A Box" is probably the greatest song you've never heard.