Not Your Average Dead Cover Band: Tributosaurus @ Martyrs 9/14 & 9/15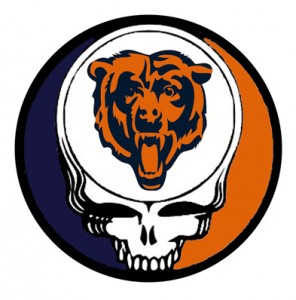 I don't have evidence, but I'd venture to guess that the Grateful Dead have more tribute bands dedicated to recreating their sound than any other performers.  That's not stopping Chicago tribute juggernaut Tributosaurus -- a band typically renown for their spot-on reproductions of the studio work of a host of classic rockers -- from tackling the Dead for the first time in their ten year career this weekend at Martyrs.
So what does a band whose sole mission is faithful recreation of studio albums do with a band whose legacy resides primarily on stage?  I caught up with Tributosaurus founder Matt Spiegel to find out.
"There are about four tunes that we'll try to reproduce exactly as recorded -- 'Box of Rain', 'Golden Road', a couple others", Spiegel suggests.  "From there, we're going to open it up to improvisation.  Its different from our usual approach, but I've wanted to do this for a long time."
The band consists of Spiegel and a handful of core members, but they routinely achieve the "right sound" for the bands they interpret by supplementing the lineup with some of the most accomplished players in the Chicago scene.  "If we need a ten piece horn section or high pitched male vocals, we'll bring them in."
For the Dead edition, Spiegel suggests we'll see a different lineup of improv-leaning guests each night, along with a varied setlist.  Friday will feature the peerless mandolin playing of Don Stiernberg (a frequent David Grisman collaborator).  Sax player Pat Mallinger (Sabertooth) and guitarist Kris Novak (Cornmeal) will also make appearances over the course of the weekend.
A twelve show veteran himself, Spiegel indicates that three core members of Tributosaurus identify as Deadheads and been through some serious Dead phases; no surprise given the deep seated love of music that this crew has.  "The 1987 version of Matt Spiegel is mind bogglingly excited about these shows," he enthuses before lovingly describing his old tour vehicle.
I think one of the most intriguing things about this show, and really the prospect of any Tributosaurus gig, is that the experience will be a true lightning-in-a-bottle phenomenon.  A new ensemble will form around the core and woodshed around a set of arrangements specifically for these showcases.  It's no easy task and whatever happens is sure to be interesting.  "It's a very high level of musicianship," Spiegel adds when asked to explain the appeal.  "The Tributosaurus name really brings out the best players in the city."
Tributosaurus plays Friday and Saturday night, 9/14 & 9/15 at Martyrs at 8:00 pm.  Tickets available through their website.