FitzGerald's American Music Festival To Celebrate 34th Year With Massive Americana Lineup (Grids)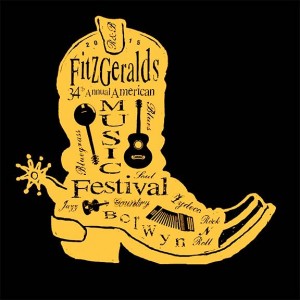 FitzGerald's American Music Festival will celebrate its 34th year July 1-4. Taking place inside and outside of the venue in Berwyn, the festival boasts a lineup of Americana, folk, blues and roots bands that fit the venue's reputation perfectly.
Amongst the bigger names on the roster are Pokey LaFarge, Eric Lindell, Joe Ely Band, JD McPherson, Sarah Borges, Paul Thorn, Glen David Andrews, Marcia Ball Band and Eilen Jewell.
There will be no shortage of Bob Dylan on July 3rd, either, with main stage sets by Tributosaurus as The Bard and Fitz regulars The Zimmermen (featuring Cathy Richardson) split by a set by Dustbowl Revival.
Barn favorites Uncle Lucius and Honey Island Swamp Band will also make an appearance.
The festival features three separate stages, with two inside the venue (at the main club stage and smaller sidebar) and one in an outdoor tent.
In addition to the music, the festival offers a variety of food options focusing on classic American BBQ and New Orleans favorites.
For those unfamiliar, FitzGerald's is a unique staple of Chicago, in business for nearly a century and specializing in Americana music. Their American Music Festival is perhaps the longest running festival of its kind in the city.
Four-day passes and individual day passes are available online here or at the venue.
Read the festival's schedule below.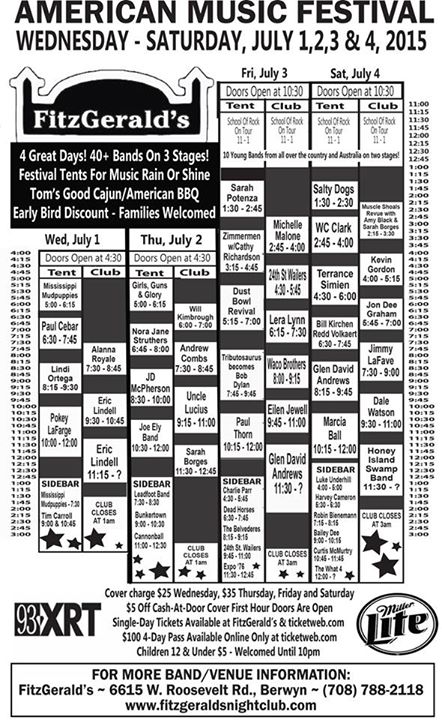 July 1:
TENT: Pokey LaFarge (10 pm), Lindi Ortega (8:15 pm), Paul Cebar Tomorrow Sound (6:30 pm), Mississippi Mudpuppies (5pm)
CLUB: Eric Lindell (9:30 and 11:15 pm), Alanna Royale (7:30 pm)
SIDEBAR: Tim Carroll (9 and 10:45 pm), Mississippi Mudpuppies (7:30 pm)
July 2:
TENT: Joe Ely Band featuring David Grissom (10:30 pm), JD McPherson (8:30 pm), Nora Jane Struthers & The Party Line (6:45 pm), Girls, Guns and Glory (5 pm)
CLUB: Sarah Borges (11:30 pm), Uncle Lucius (9:15 pm), Andrew Combs (7:30 pm), Will Kimbrough (6 pm)
SIDEBAR: Cannonball (11 pm), Bunkertown (9 pm), Leadfoot Band (7:30 pm)
July 3:
TENT: Paul Thorn (10:15 pm), Tributosaurus becomes Bob Dylan (7:45 pm), Dustbowl Revival (5:15 pm), The Zimmermen with Cathy Richardson (3:15 pm), Sarah Potenza (1:30 pm), School of Rock on Tour (11 am)
CLUB: Glen David Andrews (11:30 pm), Eilen Jewell (9:45 pm), Waco Brothers (8 pm), Lera Lynn (6:15 pm), 24th Street Wailers (4:30 pm), Michelle Malone (2:45 pm), School of Rock on Tour (11 am)
SIDEBAR: Expo '76 (11:30 pm), 24th Street Wailers (9:45 pm), The Belvederes (8:15 pm), Dead Horses (6:30 pm), Charlie Parr (4:30 pm)
July 4:
TENT: Marcia Ball Band (10:15 pm), Glen David Andrews (8:15 pm), Bill Kirchen and Redd Volkaert Band (6:30 pm), Terrance Simien & The Zydeco Experience (4:30 pm), W.C. Clark Blues Band (2:45 pm), Salty Dogs Trad Jazz Band (1:30 pm), School of Rock on Tour (11 am)
CLUB: Honey Island Swamp Band (11:30 pm), Dale Watson (9:30 pm), Jimmy LaFave (7:30 pm), Jon Dee Graham & The Fighting Cocks (5:45 pm), Kevin Gordon Band (4 pm), A muscle Shoals Music Revue with Amy Black and Sarah Borges (2:15 pm), School of Rock on Tour (11 am)
SIDEBAR: The What 4 with Scott Ligon, Casey McDonough, Phil Angotti, Matt Warren (midnight), Curtis McMurtry (10:45 pm), Bailey Dee & Her Late Night Bait (9 pm), Robin Bienemann (7:15 pm), Harvey Cameron (5:30 pm), Luke Underhill (4 pm)