President Obama's Perfect Quotes On Bob Dylan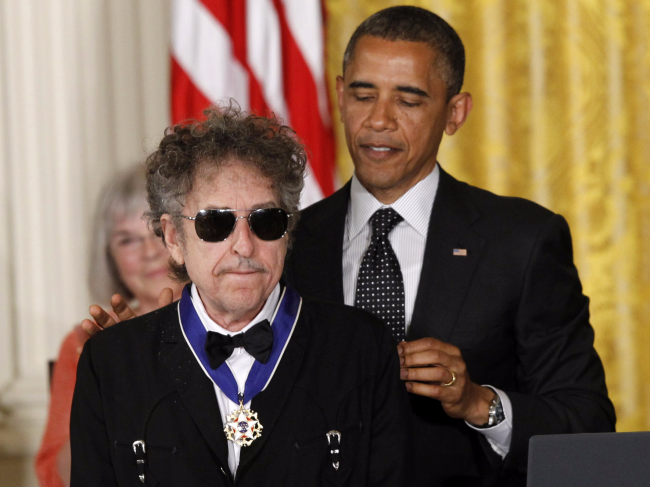 I've been trying to process the news about Bob Dylan's Nobel Prize in Literature since the announcement last week.
But sometimes it takes a different perspective to realize what an important contribution to the global cultural landscape Dylan has made.
How about from President Obama?  A quote he gave to Rolling Stone magazine in 2010, after Bob had performed at the White House, has been making the rounds again in light of recent news.  I felt compelled to share it here, as it speaks to the enormity of, not only his impact, but on being Bob Dylan.
"Here's what I love about Dylan: He was exactly as you'd expect he would be. He wouldn't come to the rehearsal; usually, all these guys are practicing before the set in the evening. He didn't want to take a picture with me; usually all the talent is dying to take a picture with me and Michelle before the show, but he didn't show up to that. He came in and played 'The Times They Are A-Changin'.' A beautiful rendition. The guy is so steeped in this stuff that he can just come up with some new arrangement, and the song sounds completely different. Finishes the song, steps off the stage — I'm sitting right in the front row — comes up, shakes my hand, sort of tips his head, gives me just a little grin, and then leaves. And that was it — then he left. That was our only interaction with him. And I thought: That's how you want Bob Dylan, right? You don't want him to be all cheesin' and grinnin' with you. You want him to be a little skeptical about the whole enterprise. So that was a real treat."
Later, in 2012 as the President awared Dylan with the Medal Of Freedom, our nation's highest civilian honor, he elaborated.  "There is not a bigger giant in the history of American music."  He added that Dylan's voice helped redefine "not just what music sounded like, but the message it carried and how it made people feel."
There is only one.  Congratulations, even if you don't ever acknowledge the honor.