GD50 Chicago Weekend Ticket Giveaways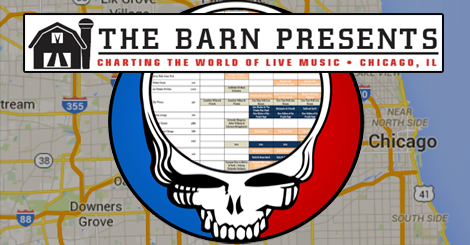 Yes, our Fourth Of July weekend in Chicago can get a little overwhelming (and also quite expensive).  But, we're looking out for our readers and have arranged a number of great ticket giveaways for events all around the city.  Free sometimes is a great way to make a decision and depending on where you're coming from, what kind of music your into or what day you're available.  There's no shortage of options.
Details about how to enter each contest are in the links below.  For information about all the action, check out our GD50 Chicago Home Page, Grids & Maps.
City Winery
Fare Thee Well Streams  - All three nights!
Railroad Earth - Late night on July 5th
Steve Kimock & Jerry Joseph - Brunch on July 3rd & 4th
Alex Bleeker & The Freaks Play Dead - Late night on July 3rd
Aragon Ballroom
Thievery Corporation - Mixing Dead tunes into their set on July 2nd
Abbey Pub
Grateful Zappa Weekend  - Roister with classic members of Zappa's bands (Ike Willis, Ray White, Ed Mann & more), all three nights!
SPACE
Elvin Bishop - Wednesday, July 1st
Jackie Greene  - July 3rd & 4th, the fourth with Grahame Lesh & Midnight North
Martyrs'
Furthur's John Kadlecik & Forgotten Space - Wednesday, July 1st
Terrapin Flyer with Special Guests Mark Karan, Melvin Seals & Rob Barraco - Plus Live Streams from Soldier Field all three nights!
Hard Rock Cafe
Runaway Gin & Sprocket - Phish jams on July 4th late night
Bottom Lounge
New Riders Of The Purple Sage - Psychedelic Last Supper Jerry's old pal David Nelson with a different young Chicago opener, all three nights
Redmoon Theater
Front Left A-fare Featuring Stu Allen & Mars Hotel + Guests - A daylong event featuring a Soldier Field streams, and live music before and after, July 5th
Just a hint, you can increase your odds at winning each of these contests if you follow our social feeds.  The Barn on Facebook and Twitter.
And keep coming back to this page... we may be adding a couple more before it's all over.
Good luck!