Jerry Garcia Band @ Keystone 1/31/81: Stream and Download
How would you like it if somebody took a recording of your first month on the job, and posted it to the web?  We're not trying to be mean, we're just excited about our upcoming event, and think this is genuinely awesome.
Consider the circumstance: a 27 year old Melvin Seals, an organist "straight out of the church" as he describes it, going toe-to-toe with a huge rock star and formidable musical personality in Jerry Garcia.  This recording is taken from the first month of Melvin's 14 year tenure with the Jerry Band.  It is also remarkable as it was one of the few configurations of the band that featured another keyboard alongside Melvin's organ.
And as you can hear, Melvin's playing is confident, out-front, and challenging Jerry into some interesting musical spaces ... and it only gets better over the years.
Taken from the second set at Keystone (January 31, 1981), this is an ideal five song sample of what Jerry was capable of in these days.  Yes, the songs are long, but the set itself is compact... a smattering of tunes that offer a little of everything in Jerry's bag of tricks:  pop, reggae, gospel, bluegrass, storytelling all key ingredients in that thick Jerry soup. It's just about CD length for folks who still listen to those.
The stream, click to activate...

Download entire show (zip)
Setlist
Jerry Garcia Band 1/31/1981
Keystone, Berkeley, CA
2:  I'll Take A Melody, Simple Twist Of Fate, The Harder They Come, Dear Prudence, Midnight Moonlight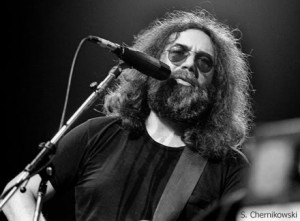 Personnel
Jerry Garcia - guitar, vocals
John Kahn - bass
Melvin Seals - organ
Daoud Shaw - drums
Jimmy Warren - electric piano, clavinet